In order to get SMB file sharing up and running, it is necessary to set up the Shared Folder and the Win/Mac/NFS settings in the Control Panel. Obviously, this needs to be done after setting up the volume appropriately in the Storage Manager.

The results of running the Intel NASPT benchmarks and our own robocopy tests on the SMB share are given below.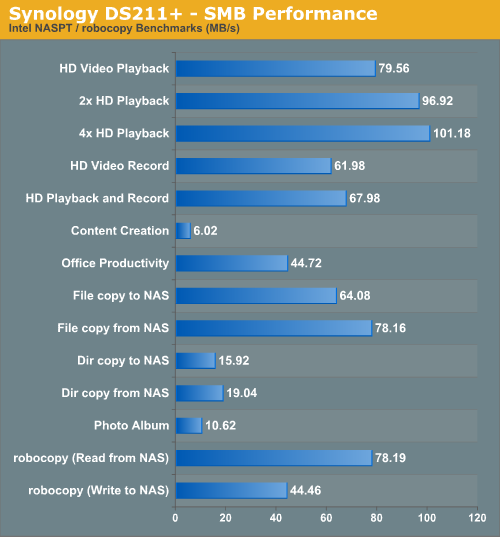 We find that the performance of the unit with respect to media playback workloads surpasses that of the LaCie 5big storage server. This means that the DS211+ is much more suited for usage as a media server in the home environment. It is important to note that the LaCie unit has dual GbE ports and is supposed to be much more powerful. SMB and SOHO users would be happy to note that the performance of the DS211+ in this case is almost as good as the LaCie unit, at a fraction of its cost. Synology also provides a host of features targeted towards Windows users (Active Directory support etc.).