HTPC in your pocket?
So while the GPU in the N8 is competent, the display it drives is quite up to the task itself. Nokia is making use of a 3.5" AMOLED panel, running a resolution of 640x360 pixels. While certainly not the highest in terms of pixel density, it is vibrant and crisp with good contrast. The AMOLED panel on the N8 is very good and surprisingly, it actually uses a regular RGB sub-pixel grid, unlike the Pentile configuration found in most other AMOLED displays. This makes the display, in general, sharper than other AMOLED's, especially when viewing text.

N8's visibility outside is decent (left), but nothing great.
It has very good visibility indoors and decent visibility outdoors—especially for being an AMOLED display—but still isn't quite as good as some regular LCD displays. Even though the N8 is Nokia's current flagship device, it doesn't have the outdoor-visibility enhancing 'Clear Black Display' technology (aka polarizing filter). The ambient light sensor does its job very well and adjusts the brightness within a second or two of change in the lighting conditions. It also does a good job of maxing-out the brightness when outdoors under sunlight, although it doesn't seem to want to dip to the other end when in complete darkness.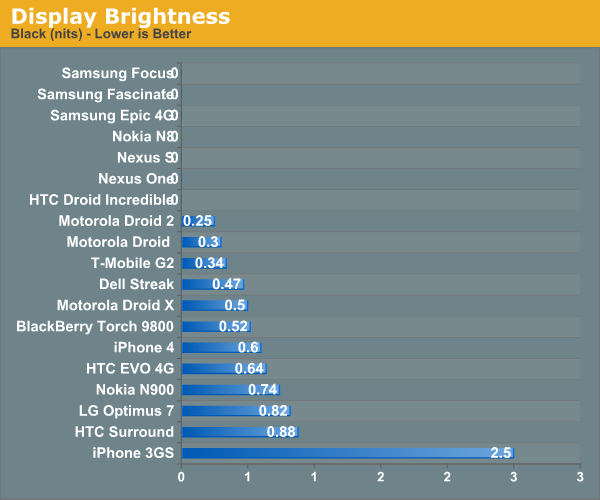 The N8 excels as a camera and as a phone. But another area where it does quite well for itself is multimedia. There is another first for the N8; it is the first mobile device to sport a complete implementation of the Dolby Digital Plus standard. What this means is that the N8 is capable of streaming out 5.1 audio without any issues.
Video playback on the Nokia N8
The N8 also houses a v1.3a-spec mini HDMI connector (Dolby Digital Plus needs at least a v1.3 connection) up top that works just as it should. Connect the N8 to your TV using the included cable and you're all set. And Nokia has paid a lot of attention to its implementation of HDMI-out on the N8. Instead of simply mirroring or cloning the N8's display over the HDMI connection as most phones do, Nokia has implemented what it calls a "native" mode, wherein during media playback, the on-screen controls are the only thing that is displayed on the N8. The actual image/video stream is only visible on the HDTV and it is unobstructed by the playback controls. While it doesn't really change how you would watch videos or images per se, it just goes to show the level of detail Nokia has gone into while implementing seemingly inconspicuous features.
The N8 also supports Matroska and DiVX playback out-of-the box without having to download, install or configure anything. I threw a couple of 720p DiVX trailers at it and it played them without issues. I did have some trouble with a couple of MKV's encoded using "high-profile" (even though the specs say it supports it), and a few high-bit rate videos (I think around 10Mbit/sec is the usable limit) where I would only get the audio stream playing, as the N8 could not identify the video stream. But it was awesome to just drop stuff off onto the N8 and watch it go. If I found one issue with the video player on the N8, it has to be its inability to resume playback from where it left off; whether this means you explicitly press pause and close the video player or just directly switch over to another app, the N8 starts playing back the video from the very start every time.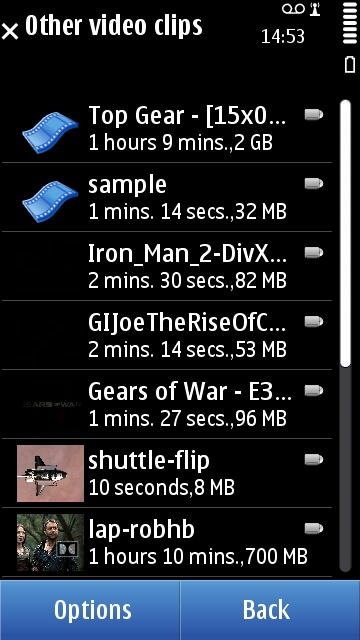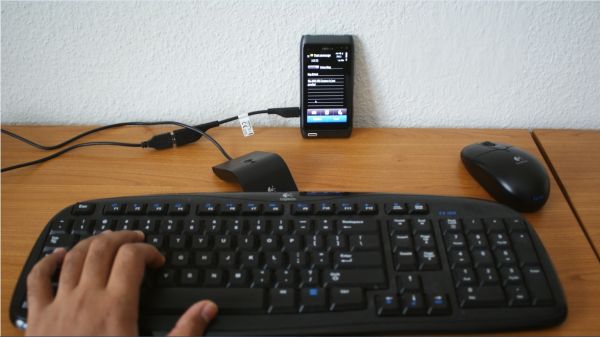 The N8's excellent media handling coupled with USB OTG make it a great basic 'HTPC'
And speaking of go, the N8 is one of the few devices that supports the USB OTG (On-the-Go) standard which allows it to act as a USB host for certain devices. Once again, this works flawlessly. I copied a couple of ripped videos onto a USB drive, plugged it into the N8 (via the supplied USB to micro-USB dongle) and the N8 immediately picks up the drive as a mass-storage device and lets me browse its contents. Again, no need to install or configure anything. The only restriction here is that the drives must be FAT32 formatted, not NTFS. The N8 is capable of providing up to 200mA over its micro-USB port, but I could use externally powered devices (such as my 1TB external drive) without any issues. I tried using a bunch of devices such as USB flash drives, digital cameras and they all seem to work fine. But I had two portable drives that understandably didn't work with the N8 because of power requirements; I could just hear them power up and down continuously.
Just out of curiosity, I tried connecting a Logitech EX100 wireless Keyboard+Mouse combo and it worked! I could use the mouse to navigate and interact with the menus without any fuss and in seconds I was typing out emails on the N8 through the keyboard. This really does make it a viable HTPC option. Nokia has also thrown in an FM radio (with the wired headset acting as an antenna) and the N8 can also act as an FM transmitter. While not entirely useful in this day and age where almost every vehicle comes with at least an AUX IN jack, it certainly is a nifty feature for those who don't have any other means of streaming audio through their vehicles speaker setup. In my brief use of the N8 as an FM transmitter, it did quite well even in areas with multiple transmitting stations.
And Nokia has another bit of surprise here. The N8 comes with 16GB memory built-in that can be expanded using microSD cards, currently giving you a maximum storage capacity of 48GB. While a lot of phones currently available come with large amounts of storage memory, in my experience, I rarely ever end up using more than a couple of gigabytes simply because of the painfully slow transfer speeds. Not so with the N8. I have recorded sustained read speeds of 13MB/sec and write speeds of about 10MB/sec. This means I can transfer a 700MB video in a little over a minute. Have a look the numbers below for comparison.
| | | |
| --- | --- | --- |
| Device | Read (MB/s) | Write (MB/s) |
| Nokia N8-00 16GB | ~13 MB/s | ~10 MB/s |
| Palm Pre Plus 16GB | ~15 MB/s | 1.5 MB/s |
| ADATA C802 4GB | ~13 MB/s | ~4 MB/s |
I couldn't get more specific information on the Toshiba THGBM1G7D4FBA13 MCP used part used in the Nokia N8, but it contains four 32Gbit Toshiba-Sandisk MLC NAND die along with a flash controller.