Signal
Signal attenuation due to holding devices is now a very present concern. As usual, we've measured the BlackBerry Torch in three different positions and found that the Torch drops around the same amount of signal as other devices, and of course less than the iPhone 4.
The cellular antenna on the Torch is at the bottom, as is the case for most devices. You can see the flex PCB which houses the antenna at the bottom quite easily right here. It's that different color black area at the bottom of the device: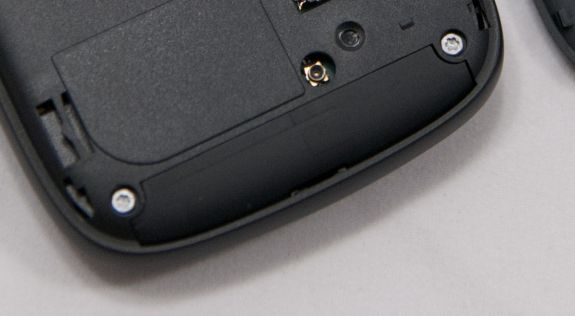 Unsurprisingly, holding the device with the battery cover off and getting as much of my hand in contact with the insulated black surface of antenna as I can (something you wouldn't ever do in regular use), I can make it drop as much as 21 dB. That's just an example of how getting super close to the radiative surface will attenuate signal - iPhone 4 style. We went through the usual gamut of tests and found that the Torch doesn't drop lots of signal, rather sticking to normal levels of around 15 dB cupped as tightly as possible with the back case on.
Signal Attenuation Comparison in dB - Lower is Better
Cupping Tightly
Holding Naturally
On an Open Palm
BlackBerry Torch
15.9
7.1
3.7
Dell Streak
14.0
8.7
4.0
Droid X
15.0
5.1
4.5
iPhone 4
24.6
19.8
9.2
iPhone 3GS
14.3
1.9
0.2
HTC Nexus One
17.7
10.7
6.7
As an aside, remember that you can quickly change the bar visualizations to numerical strength in dBm and back by holding alt and typing n m l l on the keyboard.

Like other BlackBerries, strength doesn't go above -70 dBm on UMTS, to see higher signal power, you have to switch to 2G for some reason.
BlackBerry Torch 9800 Network Support
UMTS
2100 / 1900 / 850 / 800MHz
GSM/EDGE
1900 / 1800 / 900 / 850MHz
HSDPA/HSUPA
7.2Mbps / 384Kbps (UMTS)
WiFi Performance
Because the BlackBerry browser still doesn't open PDF files directly, and we've been using an 87 MB PDF loaded over WiFi and stored locally to test performance, I had to get a bit creative.
I've shared my love for the "yes" unix command before, and I'll share it again. It's a magical tool that simply prints "y" and a newline. Pipe yes to /dev/null, and you've got an instant CPU benchmark. Pipe it to a text file, you've got a disk benchmark. Do it for a while, and you'll have a positively gigantic file. Did I mention it's also compressible?
For this test, I generated a similar size file using "yes", hosted it like I would the PDF, and loaded it in the BlackBerry browser. Note that the BlackBerry doesn't seem to immediately render the page until the file is fully loaded, as a result we're getting basically the entire WiFi subsystem here, not just how fast the browser loads.
The Torch supports 802.11b/g/n, and I saw it handshake and negotiate at 65 megabits/s with my Airport Extreme. That's just under the usual 72 megabits/s I've seen for 802.11n smartphones. In the test itself, average data rate was a consistent 9.8 megabits/s.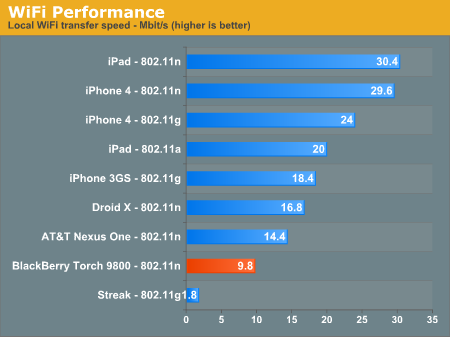 Range on the Torch is almost exactly the same as the other smartphones I've tested, I can make it all the way to the street before losing signal from my AP. That's the same as the Droid X and iPhone 4. It's interesting that the BlackBerry BIS link takes a bit of time to switch to WiFi - it seems like it really wants better signal to hop on, than to hop off. For example, the BlackBerry would join at -7 (RSSI), and hold on to the connection until signal was at -8 (RSSI).