WinRAR 3.9 x64
This benchmark compresses our AT workload consisting of a main folder that contains 954MB of files in 15 subfolders. The result is a file approximately 829MB in size.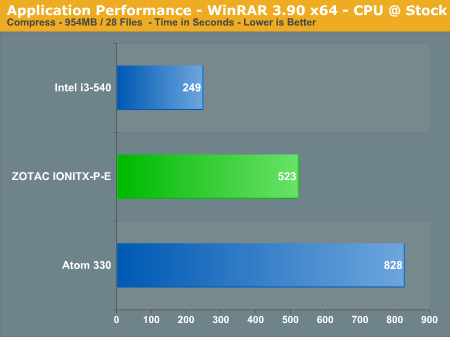 Bibble 5.0
We utilize Bibble Labs' Bibble 5 v2 to convert 50 RAW image files into full size JPEG images with the program's default settings. This program is fully multithreaded and multi-core aware.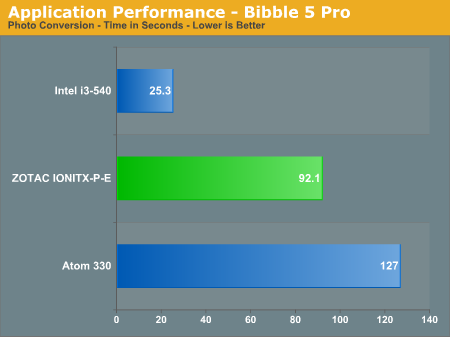 The lack of Hyper Threading and frequency bandwidth makes any kind of crunching tasks painfully slow on ION. Having said that, the Celeron is definitely the lesser of two evils here, showing a marked improvement in performance over the Atom.
File Transfer to USB
In this test we use Sharkoon's USB QuickPort with a 1TB Western Digital hard drive and transfer a 1GB file from a 1TB HDD connected to the Intel PCH.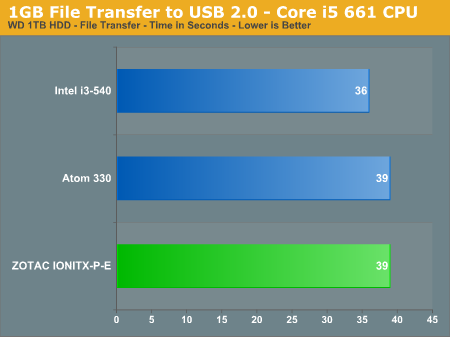 USB performance is not quite as fast as what a good H55 based motherboard can manage, but 39 seconds is quite repectable in this test, as we've tested a number of socket 1156 motherboards that can't break the 45 second mark.