Camera
The X, like the EVO and Incredible, packs an 8 megapixel Omnivision camera SoC, most likely the OmniVision OV8810 (same as the EVO and Incredible) with 1.4 µm square pixels. This sensor has a reported sensitivity of 650 mV/lux-sec, and is likewise backside illuminated. For comparison, the iPhone 4's 5 megapixel OV5650 SoC has a sensitivity of 1300 mV/lux-sec and pixel sizes 1.75 µm square.
Sensitivity in this case refers to just how much voltage a pixel creates per 1 lux-sec (one lux of light for one second) of exposure. Thus, more voltage is better and results in higher SNR, and less noise on the image.

If you recall back to our iPhone 4 piece, I talked a lot about why backside illumination is relevant as pixel sizes continue to shrink. Quantum efficiency (sensitivity) is one critical reason, but the other is quantum blurring negatively affecting image contrast (MTF). If you're interested, you can read more here.
Camera Interface
Details of the camera SoC aside, the X foregoes the typical Android camera interface and instead brings its own. It's different than the one used on the original Droid, and not like HTC's interface.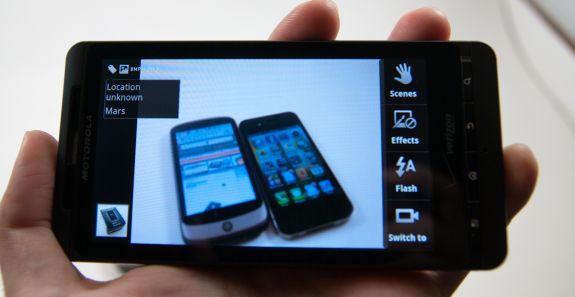 On the right are some quick access buttons for scenes, effects, flash, and switching to video. Press menu, and you'll get picture modes, tags, and settings. Confused yet as to what the difference between scenes, effects, and modes are?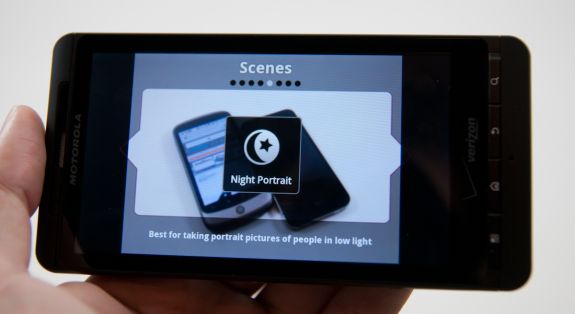 Scenes allows you to set some quick shooting scenarios that the camera will hopefully adjust for. There's auto, portrait, landcape, sport, night portrait, sunset, macro, and steady shot. I left the camera on auto for all of the test shots. Effects lets you apply filters to the images, such as black and white, negative, sepia, solarize, red green or blue tint, or normal if you're feeling generic. Flash as expected comes with auto, on, and off modes.
In the top left, you can tap on a tag symbol and toggle GPS assisted location tagging, or custom tags. Hit up settings, and you can change the picture resolution between full 8 MP, 6 MP widescreen, 5 MP medium, and small 3 or 2 MP presets. There also are settings for ISO equivalent sensitivity and exposure. The camera also promises face detection for autofocus, more on that later. The volume buttons control digital zoom.

I mentioned earlier that the X got an OTA update about midway through my time with it. One of the things it addressed was a camera complaint I had begun documenting but is obviously irrelevant now. Before the OTA update, the image preview was higher resolution, but white balance and other color correction effects didn't show up in the live preview. In effect, the snapped photo was often an entirely different temperature, and looked entirely different. Since the update, Motorola has made the live preview accurately reflect the color temperature of the captured photo, at the cost of a sizable chunk of resolution.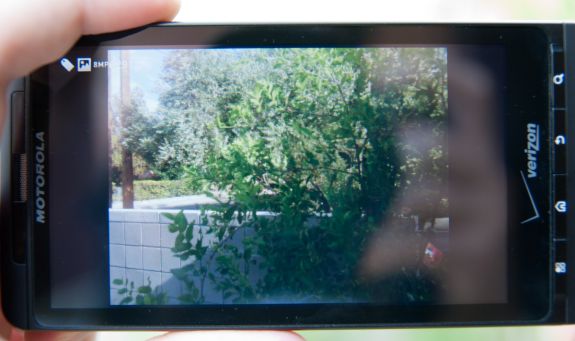 It's hard to describe how the preview looks now, but it's no longer of native resolution on the screen, instead appearing slightly blurry and of lower resolution. Viewing the captured photo shows the native quality, but the preview and live view aren't how the used to be. I took side by side photos of the same subject with an EVO, but even there it's difficult to really see how much the preview differs - either way, it's there. It just doesn't look as good.

Camera launch is between 3-4 seconds now, another of the things the OTA update addressed. It's relatively speedy but not instantaneous, though none of the smartphone camera launches are. Motorola again uses a colored, two-position dedicated button for shutter control.