The GeForce GT 330M
The discrete GPU Apple settled on in the 15 and 17-inch MacBook Pro isn't bad for a notebook. The GT 330M is a 40nm chip with 48 SPs, cores, CUDA funhouses or whatever you want to call them. This is up from 16 in the GeForce 9400M that shipped on last year's MBPs, and 32 in the optional GeForce 9600M. Those GPUs were also built on TSMC's 65nm process, but power consumption may not be lower on the 330M given what we've seen with NVIDIA's desktop 40nm.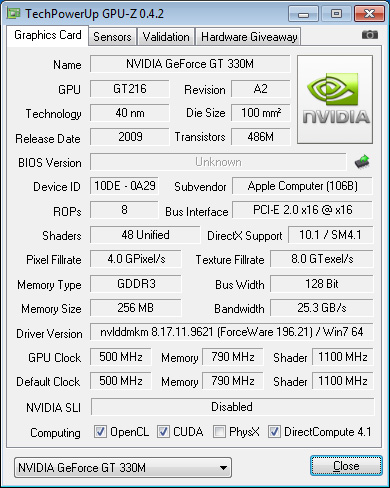 In addition to having more shader power, the GT 330M runs at a higher clock speed than last year's offerings. The end result is much better GPU performance, something that will start to matter now that OS X is getting Steam.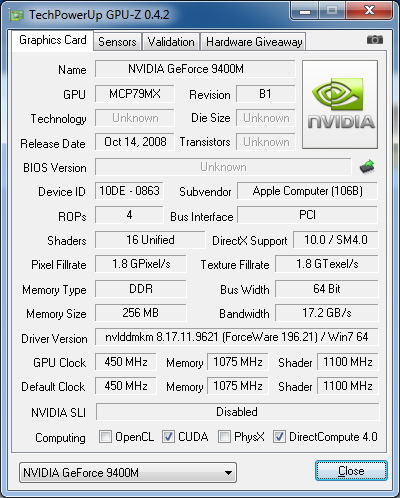 I didn't have access to any MacBook Pros with a 9600M, so my only performance comparison is to the 9400M. The 9600M should fall somewhere in between the 9400M and the GT 330M in performance.
I ran all of my gaming tests under Bootcamp in Windows 7:
GPU Gaming Performance Comparison - Windows 7
Left 4 Dead (1440 x 900 - High Quality)
World of Warcraft (800 x 600 - High Quality)
15-inch MacBook Pro (Late 2009) - GeForce 9400M
16.9 fps
19.1 fps
15-inch MacBook Pro (Mid 2010) - GeForce GT 330M
44.9 fps
52.3 fps
Compared to the 9400M the GT 330M is amazing. Compared to the rest of the world though, we're still not looking at desktop GPU speeds. Less than 60 fps under World of Warcraft at 800 x 600, and not even 50 fps at the panel's native resolution in Left 4 Dead. We can at least run these games at high quality settings, which isn't something that was possible with previous graphics solutions on the MacBook Pro.
If you can deal with running a game at medium quality settings and a lower-than-native resolution, you'll get ok performance out of the 330M.