Even Better Battery Life
I've never had such a great balance of performance and battery life as my previous generation unibody MacBook Pro. Whatever Apple is doing under OS X to deliver great idle battery life really does pay off. If you're not constantly pegging the CPU, OS X can deliver some incredible battery life.
It does get better with Arrandale. Remember with the Core 2 processors you couldn't actually shut off the cores if they were idle, they'd still leak power. Thanks to Arrandale's power gating, if a core is idle, it can effectively be shut off completely. In other words, battery life in situations where there's lots of idle time (e.g. read web pages, writing) should improve.
To test this theory I ran our standard wireless web browsing test:
Light Web Browsing
Here we're simply listing to MP3s in iTunes on repeat while browsing through a series of webpages with no flash on them. Each page forwards on to the next in the series after 20 seconds.
The display is kept at 50% brightness, all screen savers are disabled, but the hard drive is allowed to go to sleep if there's no disk activity. The wireless connection is enabled and connected to a local access point less than 20 feet away. This test represents the longest battery life you can achieve on the platform while doing minimal work. The results here are comparable to what you'd see typing a document in TextEdit or reading documents.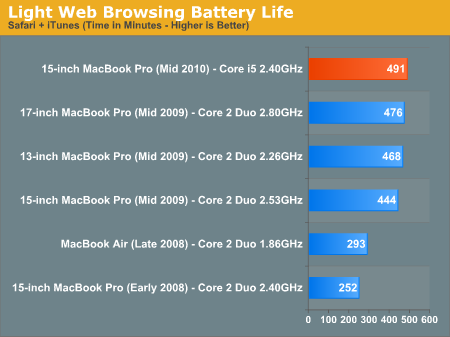 As expected, the new MacBook Pro delivers a 10.5% increase in battery life. Not all of this is due to the more efficient CPU/GPU however. The 15-inch MacBook Pro has a larger battery than before (77.5Whr vs. 73Whr).
It's not all rosy though. The larger battery was used in part to make up for the fact that Arrandale, while more efficient at idle, can draw more power under load than Penryn. The Core i5 can be noticeably faster than last year's Core 2 Duo, but in allowing you to do more it can run the battery down quicker.
In our original Arrandale review we found that battery life can actually decrease with the new platform under certain conditions. Our heavy multitasking test shows the same can happen under OS X:
Multitasking Battery Life
Our final battery life test is the worst case scenario. In this test we have three open Safari windows, each browsing a set of web pages with between 1 - 4 flash ads per page, at the same time. We're also playing an XviD video in a window all while downloading files from a server at approximately 500KB/s.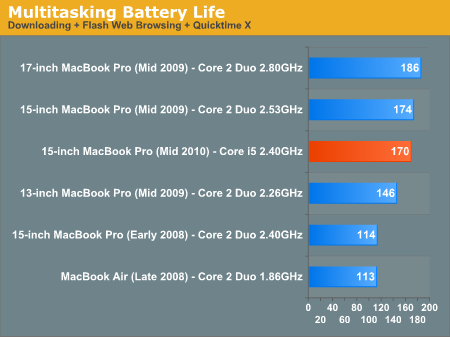 It's not a large drop, only a couple of percent, not even noticeable. But you shouldn't expect battery life improvements across the board with the new MacBook Pro.