Apple's GPU Switching Technology
The Core i5 and i7 CPUs all come with their own on-package CPU called Intel's HD Graphics. This DX10-class GPU is capable of playing games and has a capable HD video decode engine, but it's no match for a discrete GPU.
As I mentioned earlier, all of the 15 and 17-inch MacBook Pro models ship with NVIDIA GeForce GT 330M discrete GPUs in addition to the two Intel chips (Core i5 + H55M). Despite being built on a 40nm process, the GT 330M could easily knock off an hour of battery life just by sitting idle while you type away in Pages.
Apple has had this problem before. The previous unibody MacBook Pros with discrete graphics had a software switch that you could use to turn the discrete GPU on/off. It was a pain to use however since you had to log out after switching modes.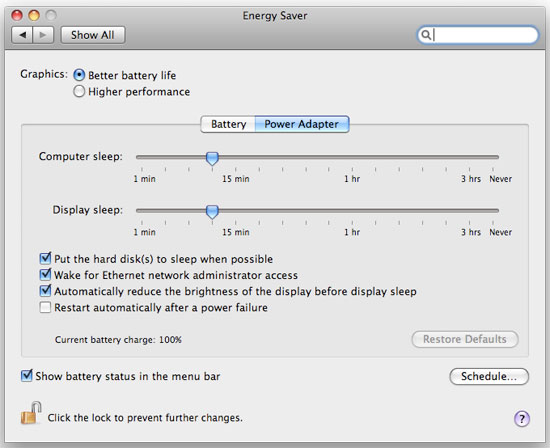 The Old Method
With the new MacBook Pro, Apple implements an automated switching system similar to NVIDIA's Optimus technology. Instead of relying on application profiles, OS X looks at the functions called by any running application and determines whether the Intel HD Graphics is sufficient or the GeForce GT 330M is needed. Applications like video playback are low key enough to run exclusively on the Intel HD Graphics, while 3D games and applications that take advantage of GPU acceleration appear to wake up the GT 330M.
Update: Apple has given us a list of frameworks that will trigger the discrete GPU, they primarily include: OpenGL, OpenCL, Quartz Composer, Core Animation and Core Graphics. Also, if you plug in an external display the discrete GPU is also turned on.
Apple has also confirmed that both the discrete and integrated graphics cores have their own connection to the display. There's no copying of frame buffer data, the GPU that's in use is the one that's storing and displaying the screen. If the integrated graphics core isn't in use it is put into its lowest power state. If the discrete GPU isn't in use it's completely shut off.
Power Consumption Comparison
Intel HD Graphics Only
GeForce GT 330M
Idle at OS X Desktop
11.5W
15.1W
The switching process is seamless and there's no indication of what GPU is being used at any given moment. That's both good and bad. You don't have to muck with any software switches, but you also rely on Apple to make the right decision based on your current workload. Without a way of telling what is making the discrete GPU wake up, there's no way to know whether something as simple as leaving an application open is causing you to have lower-than-ideal battery life.
There's also no way to turn the GeForce GT 330M off completely, regardless of application. This is one area where Apple completely wrestles control away from the end user. I'm all for automated switching systems, just not ones that don't reassure me that they're always making the right decision.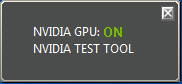 Despite using a NVIDIA GPU, there's no support for Optimus under Windows 7 on the new MacBook Pro. The GeForce GT 330M is always in use there regardless of whether you use an Optimus enabled driver or the 196.21 driver that comes with the MacBook Pro.