Big Battery = Decent Battery Life
So let's get this out of the way first: the T410 "cheats" by using a 9-cell 94Wh battery compared to 6-cell 48 to 64Wh batteries in competing laptops. The default battery on the T410 is also a 6-cell unit, but if you want more battery life it's nice to have the option of grabbing a higher capacity battery. For a comparison of how the laptops really stack up, look at the relative battery life chart where we factor in battery capacity.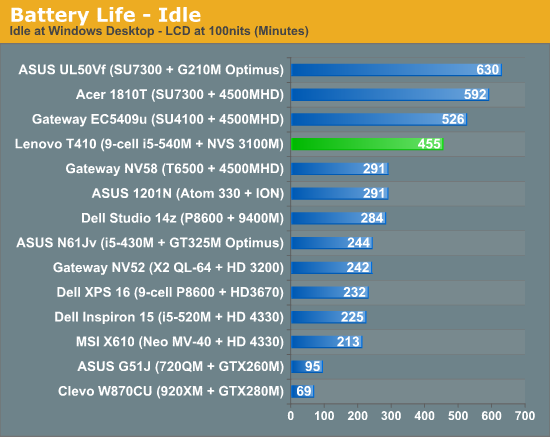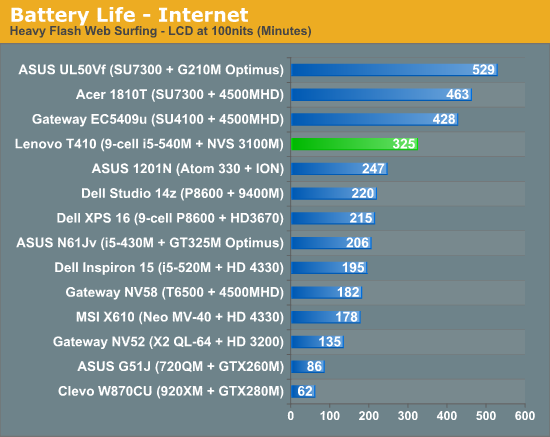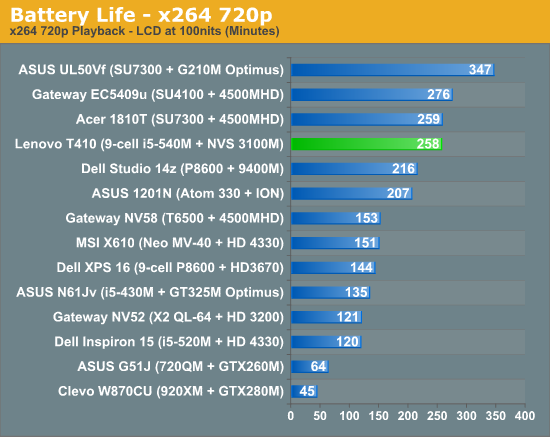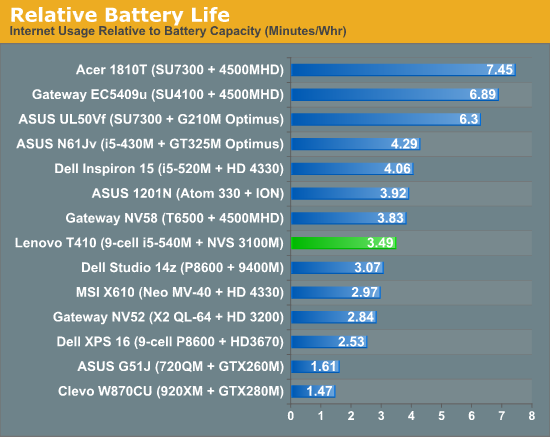 Even with the large battery, it's still clear that the ThinkPad T410 offers very respectable battery life. Lenovo provides some additional utilities that help in this area, with a Power Manager tool that has a "battery stretch" feature. Enable battery stretch and you can have the audio, networking, and optical drive power down. We used the appropriate options during battery life testing (i.e. everything off for the idle test, optical drive disabled on all tests, audio muted except on the x264 playback test, etc.) to provide maximum battery life. We've done the same for other laptops, where possible, so these results are a best-case scenario. Note that we also uninstall and disable any unwanted applications to reduce system demands and improve battery life; if you're running a firewall and anti-virus software, you can expect slightly lower battery life (and of course batteries will degrade over time).
With the 9-cell battery, you can get over four hours of x264 video playback, five hours of web surfing, and 7.5 hours best-case (i.e. idle). We calibrated the LCD for ~100nits and found that a brightness setting of 38% in Windows (or 11/15 with Lenovo's controls) gave us the desired result. Relative battery life puts the T410 in close competition with IGP solutions like the Gateway NV58, but it appears the i5 + HD4330 in the Inspiron 1564 is slightly superior overall. On the other hand, a last-gen laptop like the Dell Studio XPS 16 clearly draws more power from several of the components. The ThinkPad strikes a nice balance between performance and battery life, and getting over five hours of heavy web surfing shows that the T410 with a 9-cell battery will be enough for most business users looking to go all day without recharging.