ASUS N61Jv-X2 Battery Life
Like the Dell Inspiron 1564, the N61Jv comes with a 6-cell, 48Wh battery. ASUS doesn't specify a battery life for the N61Jv (that we could find), but users are reporting up to four hours of battery life in light loads and around two hours for movies. We calibrated the display for ~100nits (a setting of 41% results in 94nits brightness) and ran our standard battery life tests.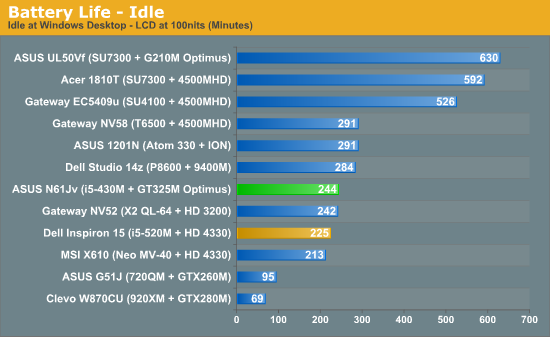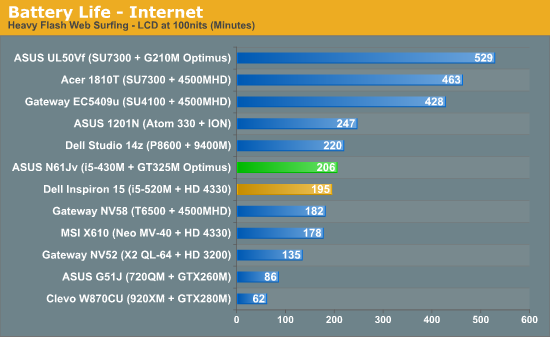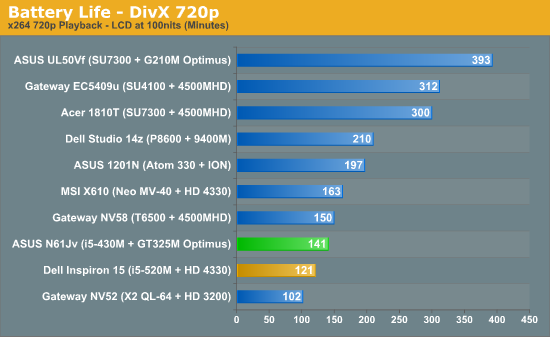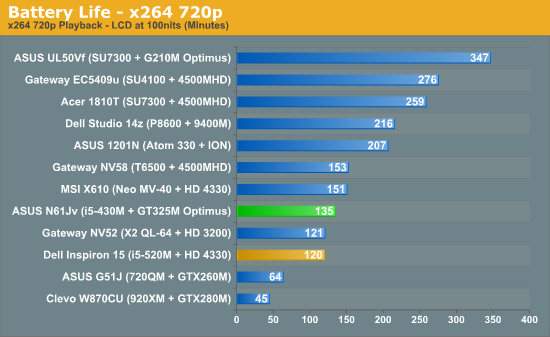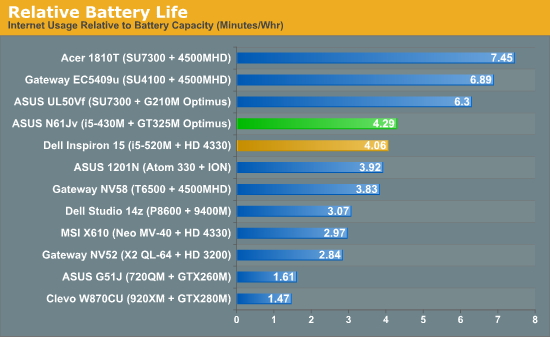 The battery life of the ASUS N61Jv is very similar to the Inspiron 1564, but it lasts 5-15% longer depending on the task. Video playback results favor the N61Jv more than the idle/internet tests, which is interesting since all of these tests use the Intel HD Graphics in the i5 CPU. Of course, the N61Jv battery life pales in comparison to CULV offerings, which can last more than twice as long. If you want a long-life mobile solution, the N61Jv isn't a great choice, but by the same token you can't come anywhere near the performance of the N61Jv with a netbook or CULV platform.
Looking at the relative battery life does provide a bright spot in an otherwise ho-hum set of charts: the N61Jv with i5-430M provides 12% better battery life than a previous generation Core 2 Duo + 4500MHD combination. In fact, the only laptops that provide better relative battery life are CULV designs (and Atom, though we didn't include Atom results in this review as netbooks are in a completely different classification). If ASUS had included a 65Wh battery, the N61J would be pushing into 5+ hour territory.