Meet The 5970
To cool the beast, AMD has stepped up the cooler from a solid copper block to a vapor chamber design, which offers slightly better performance for large surface area needs. Vapor chambers (which are effectively flat heatpipes) have largely been popularized by Sapphire, who uses them on their Vapor-X and other high-end series cards. This is the first time we've seen a vapor chamber cooler on a stock card. AMD tells us this cooler is design to keep up with 400W of thermal dissipation.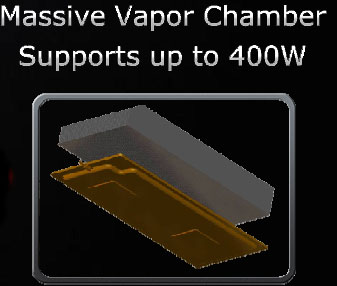 With the need for such a cooler, AMD has finally parted with their standard 5000 series port configuration in order to afford a full slot to vent hot air. In place of the 2xDVI + HDMI + DisplayPort configuration, we have 2xDVI + MiniDisplayPort, all on one slot. MDP was just approved by the VESA last week, and is identical to DisplayPort in features, the only difference is that it's smaller. This allows AMD to continue offering Eyefinity support, and it also conviently solves any questions of how to plug 3 monitors in, as there are now only as many DVI-type ports as there are available TMDS encoder pairs.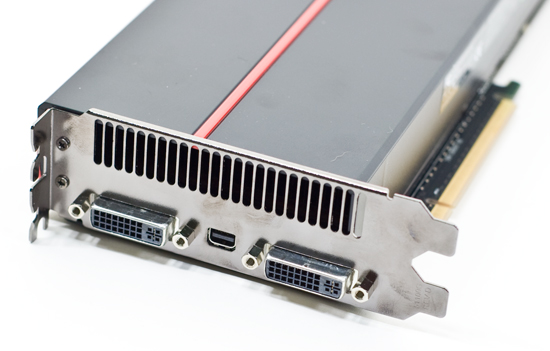 Finally, as dual-GPU cards are always bigger than their single-GPU brethren, and the 5970 is no exception to this rule. However the 5970 really drives this point home, being the largest video card we've ever tested. The PCB is 11.5" long, and with the overhang of the cooling shroud, that becomes 12.16" (309mm). This puts it well past our previous record holder, the 5870, and even father ahead of dual-GPU designs like the 4870X2 and GTX 295, both of which were 10.5". The only way to describe the 5970 is "ridiculously long".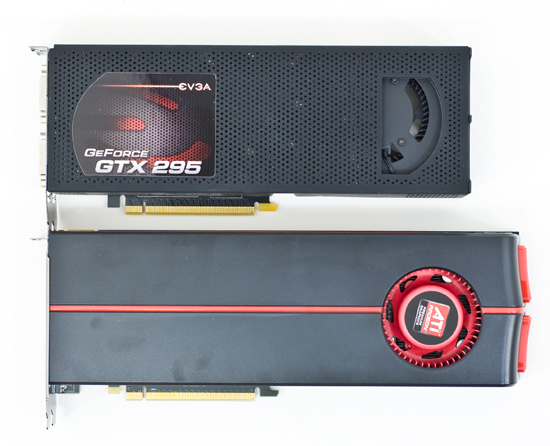 With such a long card, there are going to be some definite fitting issues on smaller cases. For our testing we use a Thermaltake Speedo case, which is itself an oversized case. We ended up having to remove the adjustable fan used to cool the PCIe slots in order to make the 5970 fit. On a smaller and more popular case like the Antec P182, we had to remove the upper hard drive cage completely in order to fit the card.
In both cases we were able to fit the card, but it required some modification to get there, and this we suspect is going to be a common story. AMD tells us that the full ATX spec calls for 13.3" of room for PCIe cards, and while we haven't been able to find written confirmation of this, this seems to be correct. Full size towers should be able to accept the card, and some mid size towers should too depending on what's behind the PEG slot. However – and it's going to be impossible to stress this enough – if you're in the market for this card, check your case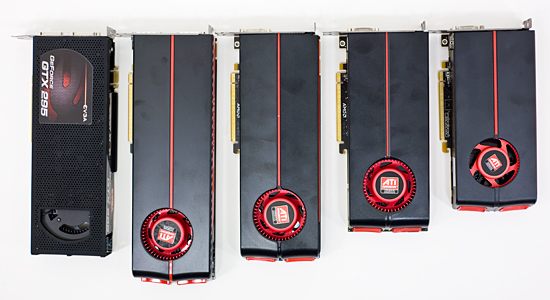 GTX 295, 5970, 5870, 5850, 5770
On a final note, while the ATX spec may call for 13.3", we hope that we don't see cards this big; in fact we'd like to not see cards this big. Such a length is long enough that it precludes running a fan immediately behind the video card on many cases, and quite frankly at a 294W TDP, this card is hot enough that we'd feel a lot better if we had a fan there to better feed air to the card.