MSI X610 Overview
The MSI X610 is a nice looking system when you get right down to it. Our biggest complaint is that the model we received includes the ubiquitous shiny black exterior. The X610 is also available in white, which would be a better choice if you don't want to see fingerprints all over the system. Thankfully, the Palm rest doesn't have a glossy surface so it's not quite as bad. It's also impressive that MSI was able to make such a relatively large chassis weight just 4.6 pounds. That's still heavier than the MacBook Air, but it's less expensive and larger. Here's our image gallery of the X610, including a profile shot comparing it with the Acer Aspire One 751h - yes, it's thinner than that particular netbook.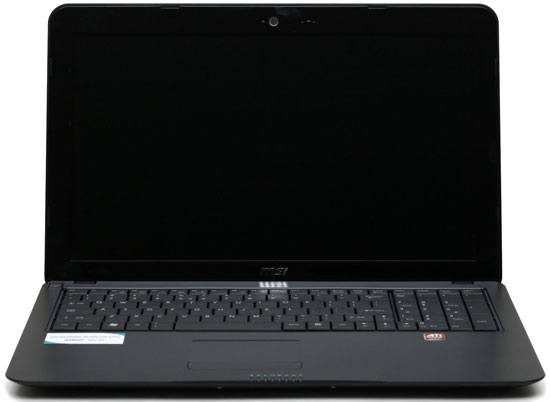 Based on appearance alone, there's plenty to like with the MSI X610. It really doesn't feel that much heavier than your typical netbook, even though the size is substantially larger. All of the usual features and accessories are naturally present, but they are upgraded relative to what you get with most netbooks. Instead of Fast Ethernet you get Gigabit Ethernet, and likewise you get 802.11n instead of 802.11g. MSI also includes a VGA port, which is standard on all netbooks/notebooks, but they add an HDMI port which is not something you usually find on netbooks. Naturally, the LCD is a lot larger, although MSI sticks with a relatively low 1366x768 resolution.
One aspect of the X610 that we absolutely love is the keyboard. This is not the same springy, cheap feeling keyboard that we found in previous MSI laptops; it has good tactile feedback in the layout is very nice. You get a full size 10-key input, with a layout that matches what you find on desktop keyboards. The only difference is that the 0 key isn't quite as large, due to the encroachment of the nearby cursor keys. It looks like MSI still has an interest all of horizontal space that they could have used around the keyboard, and it would have been nice to have dedicated Home/End/PgUp/PgDn keys on the right similar to other laptops (i.e. ASUS and Dell often use such a layout). Overall, though, we have very few complaints about the keyboard. It even has the control key and the preferred lower left corner (instead of swapping its position with the Fn key).
Another interesting aspect of the MSI X610 is the battery. It's extremely wide and deep as well, occupying a large portion of the bottom of the laptop. However, it's extremely thin -- less than half an inch, not counting the lip that curves up at the rear of the notebook. MSI deserves credit for putting the time and effort into designing a battery casing and chassis that work well together. The battery is a large part of what allows MSI to have such a thin notebook. Rated at 60Whr, it should also provide decent battery life, but as we will see later the discrete graphics (and perhaps the CPU and chipset) appears to diminish the mobility aspect of the X610.