Gaming Performance
The gaming performance of Intel's basic Atom platform is a joke. I'll put aside debates of whether or not you would want to game on an Atom for a moment. World of Warcraft does a great job of straddling the line between casual and hardcore gaming and thus makes a good candidate for looking at gaming performance of Ion vs. Intel's standard Atom platform.
I tested by running through a small outdoor section at 800 x 600 (24-bit color, no AA) using WoW's built in "Good" visual quality settings. This is the same chart from the Pentium 4 section but I'm repeating it here so you have something to look at while we discuss the gaming potential of Ion: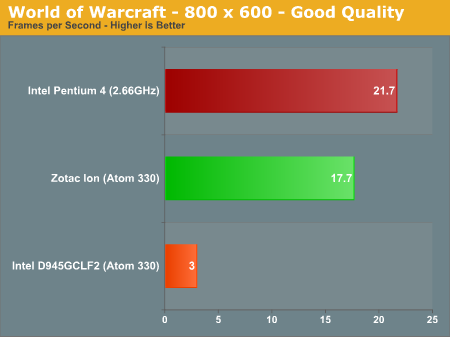 The Ion platform managed just under 18 fps, which wasn't incredibly smooth to play on but it was close. If I dropped the settings even lower I could easily get a smooth experience. The Intel D945GCLF2 managed a whopping 3 fps. I didn't even bother benchmarking the single core version; I'm not that fond of single digits.
Most modern FPS games will show worse performance than what we just saw under WoW. Far Cry 2 and Crysis Warhead will give you under 7 fps for Zotac's Ion platform, but other, more mainstream titles will perform similarly if not better.
I still maintain that the Atom CPU is not fast enough for a good gaming experience on far too many modern titles, but to NVIDIA's credit, the Ion platform does make it fast enough in games that it otherwise wouldn't be.