Power Consumption
We measured "system" power consumption at the wall outlet using a Watts Up Pro power meter. We do not include the power numbers for a monitor or external speakers; however, we do install a set of headphones to the audio out jack. We also turn on all peripherals in the BIOS along with enabling all power saving features in the BIOS. Power consumption was measured at idle after 15 minutes of inactivity and under load while measuring the average power consumption of the Ranch benchmark in Far Cry 2. Vista's power management option is set to balanced performance mode and the prefetch folder is cleared for each test. Our two tests consist of the standard BIOS power savings mode and a second test using the energy saving applications provided by each supplier.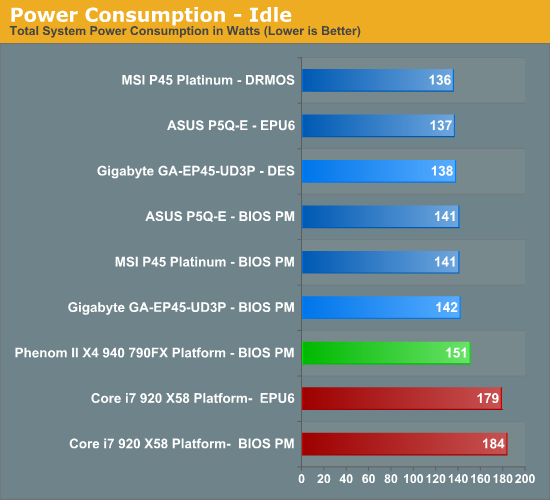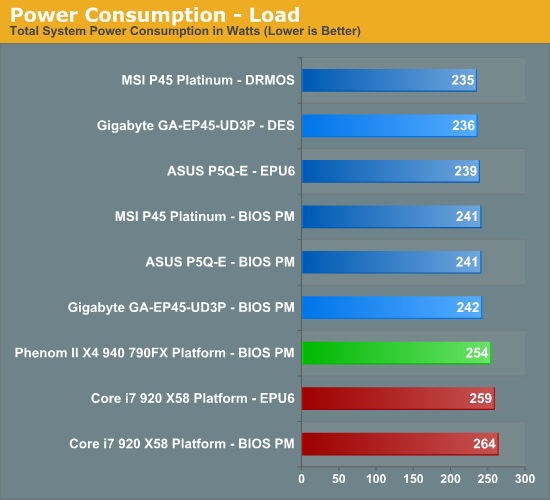 At idle with the BIOS only setup, the ASUS and MSI boards have the lowest power usage and are followed by the GIGABYTE board. Our idle numbers with the power saving numbers have MSI in the lead, something we have noticed across their DRMOS product lines. Implementing DES on the GIGABYTE board saves about 4W at idle. Our first test with the DES application on the included driver CD did not generate any power savings. We downloaded the latest version off the website and were rewarded with measurable power savings.
The load numbers favor the MSI board again with the ASUS and GIGABYTE close behind. Once we implement the power saving applications, the MSI P45 Platinum has a reduction of 6W and takes the lead again. The GIGABYTE board with DES turned actually matches the 6W reduction. The ASUS board only drops 2W with EPU6 implemented.