The Avivo Video Converter
Alongside the new Catalyst 8.12 drivers is AMD's Avivo Video Converter (AVC) - it's supposed to be like Badaboom, but with a five-finger-discount. The Avivo Video Converter will use any Radeon HD 4800 or 4600 series GPU to offload some of the calculations needed for video transcoding, resulting in faster overall performance.
The AVC is a separate 22MB download from the 8.12 drivers, available at AMD's website on the same page you use to download the latest Catalyst release.
Currently, the new video converter only works with Radeon HD 4k series hardware, and video encoding is only accelerated with 46xx and 48xx series hardware. Further, only H.264 and MPEG-2 output is currently hardware accelerated. This means that WMV and DivX and the rest are not. Even though it is a little limited, we are interested in comparing the converter to Badaboom which only outputs H.264 anyway, so not a big loss thus far. But definitely something to keep in mind when playing with the application.
The Avivo Video Converter is contained within the Catalyst Control Center's Basic view. This means that if you've opted for the Advanced view, you need to go up to the top left tab (views) and select basic. This will pull up the screen you see here.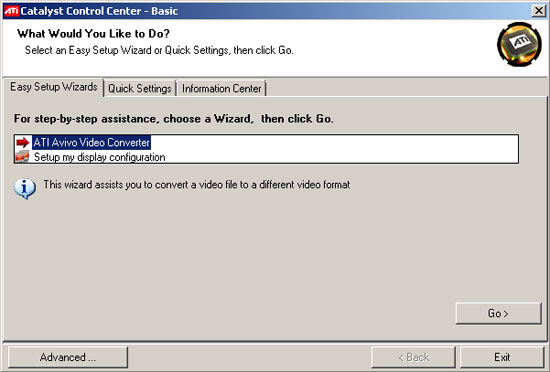 Hitting Go brings us to the next step: selecting a file for transcoding. It is unfortunately not clear what types of inputs work with Avivo, as we tried some DivX, H.264, and WMV files that either were not recognized as valid video files or just didn't produce an output video that worked. We ended up sticking with VOB files from DVDs as test sources because they just worked.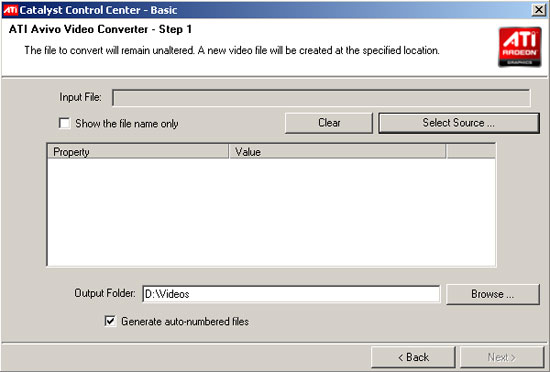 After selecting your source file, it's time to pick which format the file will be transcoded to. Many of the usual options are there, but some of the options will resize your video while other's won't. It isn't clear what resolution the options will target until after the video has been produced, and there is no way to change this option. The quality slider appears to just change bitrate, but for most formats the range of bitrates is fairly restrictive. We'd like to see higher bitrate output options in the future.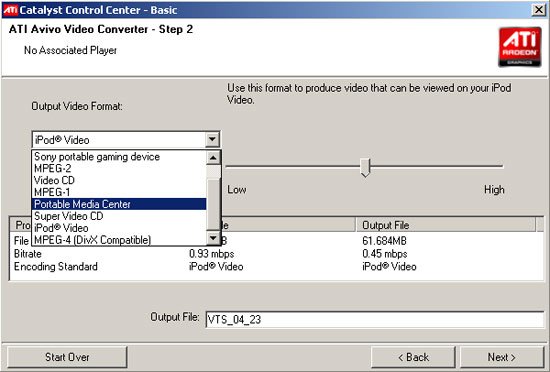 Pressing the next button after format and quality are selected brings up this progress bar window showing both elapsed time and estimated total time. This is very informative, but the window disappears when encoding is completed without logging or displaying the total time (which, while not necessary, would be a nice bit of polish).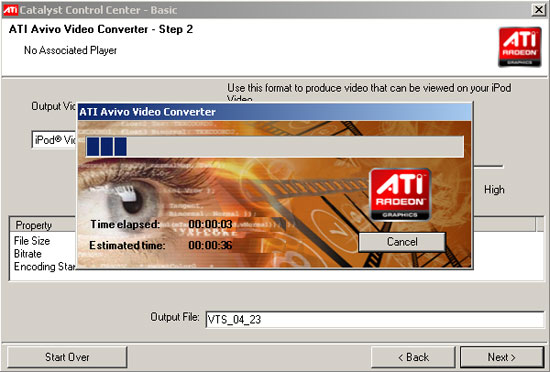 After this step, we are left with a window that tells us file size and bitrate for the video. We've got some options to either open the folder the new video is in, play the file, finish or start over. Both finish and start over bring us back to beginning (the first interface image above), and if there's any other difference between the two option we have yet to discover it.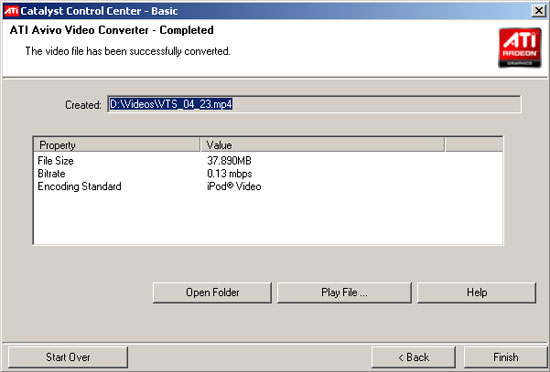 And there you have it. AMD went with a simple interface that give people some solid options for doing simple video transcoding with relative ease. Now let's take a look at how well the program actually works.