The importance of GPU performance is increasing; if it weren't, Intel wouldn't be so feverishly working to bring Larrabee to market and Apple wouldn't have announced a switch away from Intel chipsets two years after adopting them. GPU accelerated applications are finally beginning to get some exposure; Adobe's recent Photoshop CS4 introduction is the perfect example. If more big-name developers deliver GPU accelerated applications that matter, having a higher performance integrated graphics solution becomes more interesting.
Things have been amazingly quiet on the Intel chipset front. Once the AMD-ATI acquisition was announced, development on ATI Intel chipsets all but halted as did shipments of ATI's chipsets to motherboard makers - no one was looking to touch that beast with a 10 foot pole. That left Intel and NVIDIA as the only providers for Intel chipsets.
We finally got G45 a couple of months ago, but in many ways it was a mild upgrade to G35 rather than the platform we'd all been waiting for. NVIDIA has had its gloves on and eyes set on causing Intel trouble wherever possible, so it's not a surprise that NVIDIA's G45 killer is set up to look even stronger on paper.
The GeForce 9300 and 9400 are similar in many ways to the GeForce 8200/8300 from the AMD world, but obviously since we're talking about non-Nehalem Intel platforms they do have a few changes like the inclusion of a memory controller. Like their AMD counterparts however, the GeForce 9300/9400 are single-chip solutions and unlike the 8200/8300 they are built on a smaller 65nm manufacturing process.
AMD 780G
Intel G45
NVIDIA GeForce 9400
NVIDIA GeForce 9300
NVIDIA GeForce 8200
CPU
AMD Socket-AM2
Intel LGA-775
Intel LGA-775
Intel LGA-775
AMD Socket-AM2
Manufacturing Process
55nm
65nm
65nm
65nm
80nm
FSB
N/A
800 / 1066 / 1333MHz
800 / 1066 / 1333MHz
800 / 1066 / 1333MHz
N/A
Memory Controller
N/A
2 x 64-bit DDR2/DDR3 channels
2 x 64-bit DDR2/DDR3 channels
2 x 64-bit DDR2/DDR3 channels
N/A
Memory Speeds Supported
N/A
DDR2-800/667
DDR3-1066/800
DDR2-800
DDR3-1333
DDR2-800
DDR3-1333
N/A
PCI Express
22 PCIe 2.0 lanes
16 PCIe 2.0 lanes
20 PCIe 2.0 lanes
20 PCIe 2.0 lanes
19 PCIe 2.0 lanes
Graphics
Radeon HD 3200
GMA X4500
GeForce 9400 mGPU
GeForce 9300 mGPU
GeForce 8200 mGPU
Core Clock
500MHz
800MHz
580MHz Core / 1.4GHz Shader
450MHz Core / 1.2GHz Shader
500MHz Core / 1.2GHz Shader
Shader Processors
8 (5-way)
10
16
16
8
Full H.264/VC-1/MPEG-2 HW Decode
Yes
Yes
Yes
Yes
Yes
8-channel LPCM
No
Yes
Yes
Yes
Yes
The single-chip design does help enable small form factors as you can get a little more compact with your motherboard layout, but this is mainly an advantage on the mobile side (or with non-standard desktop form factors, e.g. iMac). Built on a 65nm process we should actually see power consumption fairly competitive with Intel's G45, especially given that Intel's ICH10 is built on a 130nm process while the G45 is 65nm.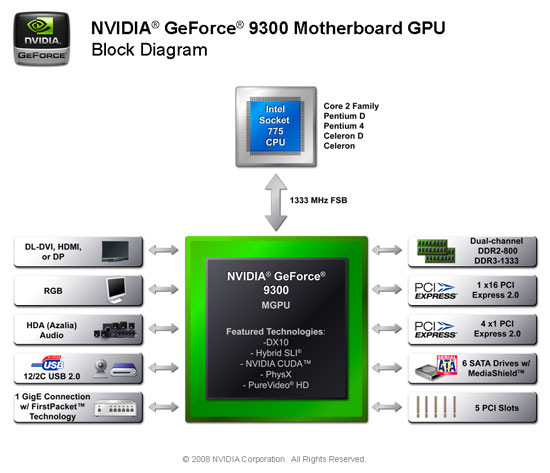 Feature-wise we do get some upgrades over NVIDIA's previous chipsets, exclusively in the graphics department, which we'll get to shortly. Finally, GeForce 9300 boards should be selling for around $100 on average with availability shortly.