Performance
While we can't game at high resolutions, we can at least play these games at higher settings than integrated graphics solutions. While gamers won't really be keen on the 9500 GT, we've already mentioned why it is important to provide users with a good experience and developers with a good platform to develop on. Let's take a look at what we actually get. We've included a Radeon 3850 for reference which can be had for around the $100 mark just to show how much more you get for a little more cash.
Age of Conan
For Age of Conan, the lowest resolution we can select is 1024x768. This puts a little pressure on as we wanted to test at high settings where we were able. In retrospect, this may be a bit too aggressive for this game with the 9500 GT. Cranking down to medium settings might prove a little more playable.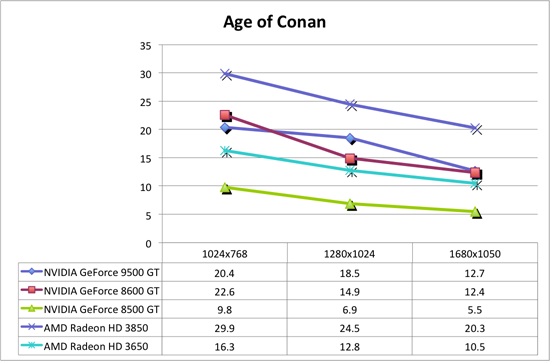 The 3850 offers much higher performance than the rest of the pack for it's higher price. The 9500 GT is neck and neck with the 8600 GT which is as expected. The 3650 lags a bit here even though Age of Conan seemed to really favor ATI hardware when we looked at the 4k series recently.
Crysis
We went with medium quality settings across the board on this, as Crysis really reaches beyond current hardware. As with Age of Conan, though we could play this at the lowest res we tested with the 3850, we would really need to drop to low quality on most options in order to get the framerate up to a comfortable place.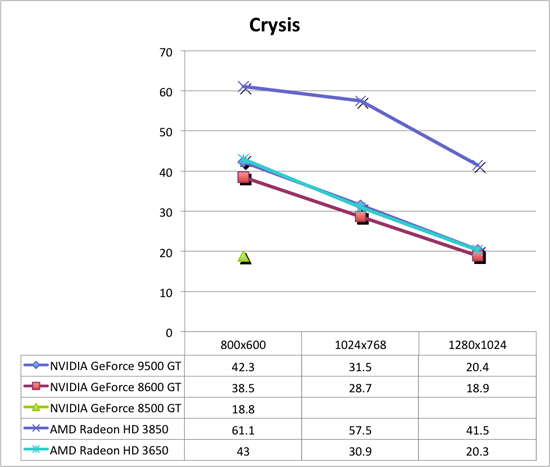 The 9500 GT does lead the 3650, and trades blows with the 8600 GT (which really isn't a surprise). The 3850 does offer a good advantage as well.
The Elder Scrolls IV: Oblivion
Oblivion is getting a little long in the tooth, but it's important to look at it as a baseline. We should expect good performance on this game. And we'll look at the ultra high defaults to see what happens.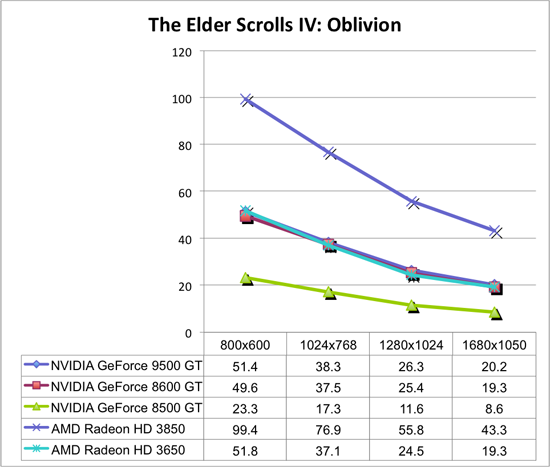 We are playable at up to 1024x768 with the 9500 GT with pretty good quality settings. This isn't bad, but it isn't great either. Note that for about $25 more (about 33% more money) you can get a card that gives you more than double the frame rate in oblivion at 1680x1050 and is very playable at that res as well. Value isn't a key factor in these "value" cards is it?
Enemy Territory: Quake Wars
This test is done with everything cranked up except antialiasing.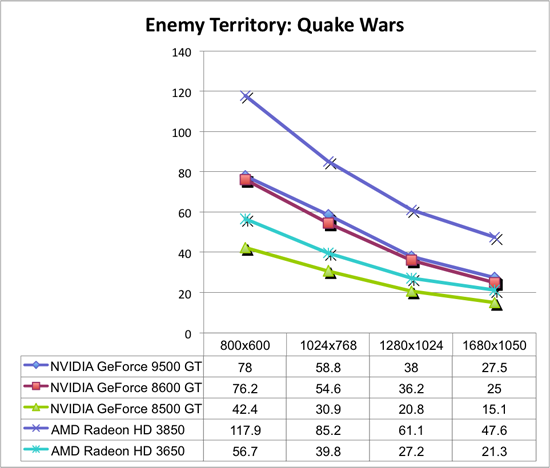 And we see more of the same.
Race Driver GRID
Once again, high quality settings except for enabling AA.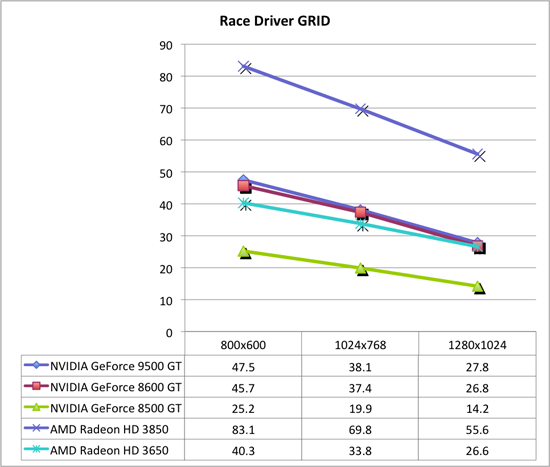 And one more time: 3850 for not that much more cash blows away the 9500 GT in price performance. Performance of the 8600 GT just trails the 9500 GT. The only twist here is that the 3650 catches up to the 9500 GT at the highest res we tested for a just-less-than-playable frame rate.