CyberPower - Ordering Impressions
CyberPower's website comes up immediately from a web search, as we like to see. Their current Reseller Rating is 7.97 for the last six months and 7.43 lifetime. As has been mentioned before, many factors must be taken into consideration besides the raw score, but often the customer feedback is useful to read through. Many posters did comment that they bought based on price and selection, and CyberPower had responded to and resolved several of the complaints.
CyberPower's website is better organized than some, but still has a huge array of choices. There are a large number of base system configurations (32 Intel, 29 AMD!), many of which are only slightly different from one another, and a huge number of individual options for each one of those systems.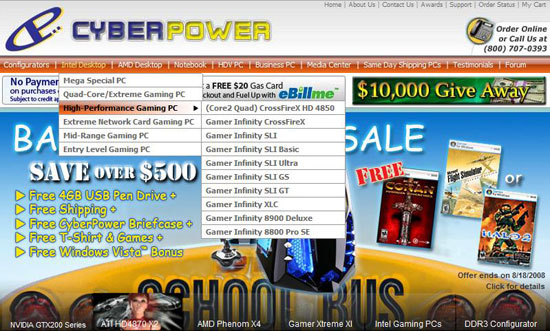 Oddly enough, their cheapest "base" Intel configuration is in the Midrange PC menu at $699 (Gamer Infinity 8000 Dream), or their "Mega Special III" at $635. In fact, they have High-Performance selections that are cheaper than their entry-level machines! Choice is great, but if you choose to segregate by performance, the line should be a little clearer. At the high end of the spectrum is the Gamer Extreme XI starting at $5079, which is the model under review today. Note that the Gamer Extreme XI comes with two PSUs, just to make sure you have enough power to run a small third-world country.
Common with many PC vendors, freebies such as T-shirts, USB drives, and games are available for many configurations, but some also come with higher priced items such as printers. As you scroll through the choices, a system summary follows you on the right hand side updating price and specs as you go, which is nice. The "Help me choose" options are somewhat helpful; they provide a short list of primary specifications, but don't provide simple comparisons in a way that lets the consumer made a tradeoff decision. We also found them to have some questionable hardware combinations since most upgrades are offered across the board - like a 128 GB SSD for a $600 PC. We won't ding them for this since they're giving choice to the consumer, but again a little more segregation among performance levels would declutter and simplify the ordering experience.
Their telephone support number was very easy to find ("Contact Us"), which we appreciate, and is listed as 24/7, in addition to the "Live Chat" feature available during business hours. Their shipping was very reasonable ($14 FedEx Ground cross-country for one entry-level system) and was very easy to use without requiring a login or personal information as some other websites do.
A brief list of Pros and Cons regarding the website layout and content is as follows:
Pros
Website easy to find
Huge array of choices
Generally competitive pricing
Prominent support information
Fair shipping rates and easy calculation
Cons
Huge array of choices can be confusing
"Help me Choose" could be better
Could remove extreme options from entry-level builds