Poulsbo's Graphics: Full HD Decode and not Made by Intel
The graphics core used in Poulsbo is actually not designed by Intel. While Intel wouldn't reveal the true designer, it did confirm that the core was made architected by and licensed from a 3rd party. We asked why and Intel simply stated that this 3rd party was further along in developing a very low power graphics core, and it simply made sense to license it rather than produce its own. This is a significant departure from Intel's standard operating procedures when it comes to integrated graphics in its chipsets, and highlights how very different the Atom project was from previous designs.
Update: Imagination Technologies has announced that Intel uses the PowerVR SGX graphics core and the VXD HD video engine.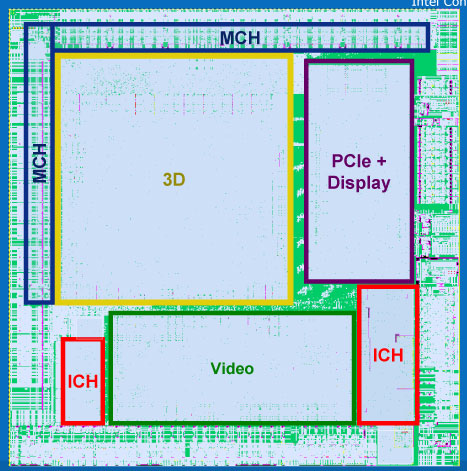 The 3D block of Poulsbo was designed by Imagination Technologies
The graphics core does include a full HD video decode engine that can fully accelerate H.264, MPEG-2 and VC-1 video streams. Intel claims that the engine is capable of decoding full bitrate Blu-ray movies however it lacks the ability to decode a second stream, and thus can't be certified for use in a Blu-ray device. Intel claims that the platform will only consume 120mW during H.264 decode.
Then there's the issue of output resolution. The graphics engine only allows a 1366 x 768 output resolution, so while it can decode a full 1080p HD stream, it can only output it at a lower resolution.
On the 3D side Poulsbo's GPU is said to support both DX9 and DX10, but the initial driver will only support DX9L. Honestly, in situations like these we'd be surprised to see anything beyond the initial level of graphics support. GPU performance isn't going to be anything tremendous but we did see Poulsbo running UT2004 quite well in a live demo. Intel told us to expect a 3DMark '05 score around the 150 point mark.
The 2D engine in Poulsbo is still an Intel designed block.