Intel's SFF Merom: Just for Apple
During Jobs' keynote, Apple mentioned that the Core 2 Duo in the MacBook Air was 60% smaller than standard Core 2 Duo processors. A quick look at Intel's mobile Core 2 Duo datasheets reveals that indeed both the micro-FCPGA and micro-FCBGA packaged Meroms measure 35mm x 35mm. Is it possible that Intel designed a completely new package just for Apple?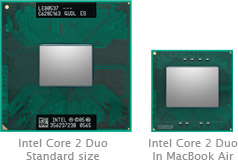 It turns out that the answer is a surprising: sort-of. At last year's Fall IDF
Intel talked about Montevina
, the successor to Santa Rosa due out in the second half of 2008. Montevina would combine a new chipset (Cantiga) with mobile Penryn. In addition to Montevina Intel will also release Montevina SFF, a smaller package version of the platform that reduces overall chip footprint by around 60%.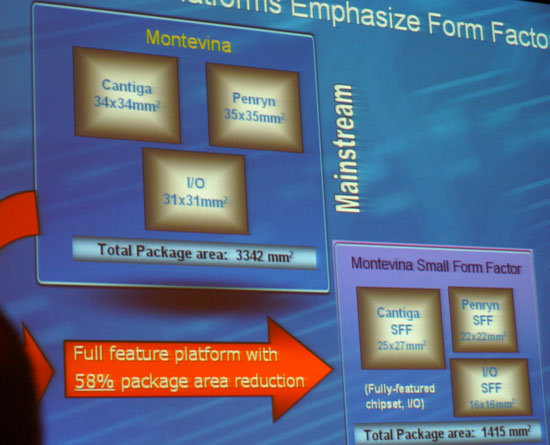 Pay attention to the size of the CPU, it drops from 35mm x 35mm down to 22mm x 22mm - Penryn SFF is around 40% of the size of regular mobile Penryn, which happens to be the same size as Merom.
It looks like Intel created Merom SFF specifically for the MacBook Air, a product that wasn't in Intel's lineup or roadmap but one that Apple needed. Remember that the first chip that will look like this wasn't scheduled to be out for another six months with Montevina SFF.
It's not clear whether Intel will make this custom Merom available to other OEMs (we'd suspect they would if there was enough demand), but it's a tremendous feat on Apple's part. This isn't the first time Intel has put together a one-off chip for Apple; if you'll remember, the CPU in the Apple TV was a special Dothan that wasn't a part of Intel's standard lineup.
We'll have a look at the MacBook Air as soon as they start shipping, if you're ordering one now we'd recommend taking the SSD option if you can afford it. At $999 it's pricey, but it should help keep heat down in the chassis and performance should be better than the pitiful 1.8" HDD in the system, which we suspect will end up being its weak point.
We also can't help but think that a Penryn based MacBook Air would be far more desirable thanks to lower thermal output of Intel's 45nm chips. If you are fine waiting, a MacBook Air in the second half of 2008 will give you slightly better performance, better battery life and should keep your lap a lot cooler.