Multi-GPU Scaling: Two 3850s = One 8800 GTX?
AMD only sent us a pair of Radeon HD 3850s for this review (believe it or not, we had to beg to get a single 3870), so our only CrossFire numbers come from this setup. That being said, the performance is quite respectable: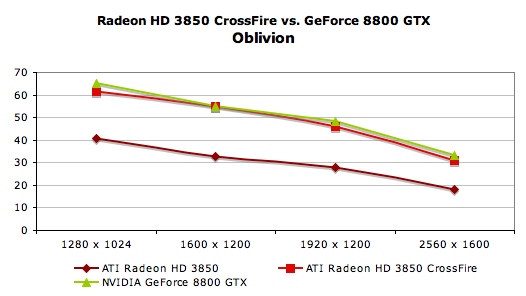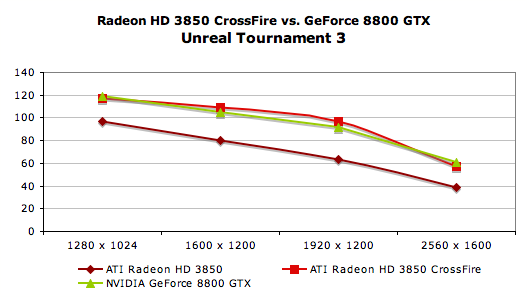 Believe it or not, but a pair of these $179 Radeon HD 3850s actually gives you the same performance as a single GeForce 8800 GTX.
| | | |
| --- | --- | --- |
|  Multi-GPU Scaling (2560 x 1600) | Radeon HD 3850 CF | GeForce 8800 GT SLI |
| Oblivion | 1.7x | 1.87x |
| Unreal Tournament 3 | 1.48x | 1.66x |
Scaling looks pretty good from the Radeon HD 3850, however it's still not as good as what NVIDIA is able to achieve with the 8800 GT. NVIDIA consistently achieves about 11% better scaling from one to two GPUs than AMD.
The other problem with CrossFire is that it simply doesn't always work, so a pair of 3850s is not necessarily a better option than a single 8800 GT or GTX. Case in point would be the two other games that we wanted to include here: Quake Wars and Call of Duty 4, both gave us lower frame rates with CF enabled than without. AMD's release notes for the Radeon HD 3800 drivers informs us that some applications may show a performance decrease with CF enabled, so we're not too surprised.
While it'd be nice to be able to purchase two cheap cards and get better performance than the best out there, there are simply too many caveats to really embrace the idea.