Finally. We're finally getting somewhere interesting in the graphics industry. Although they're sure to return, the days of reviewing $600 graphics card after $600 graphics card are on hiatus, and instead we're reviewing a new class of mainstream cards with earth-shattering performance.
NVIDIA's GeForce 8800 GT kicked off the trend, in one fell swoop making almost all of NVIDIA's product line obsolete thanks to the high performance and low price tag (we'll talk about that last part shortly). But what we saw there wasn't a fluke, it was a preemptive strike against AMD, who have been hard at work on an affordable GPU of their own.
This new product, like the 8800 GT, would be aimed squarely at the $150 - $250 market segment, something both AMD and NVIDIA did a horrible job at with mainstream releases earlier this year (2600 and 8600 both sucked guys).
Introducing the RV670
AMD's two new graphics cards launching today are both based off a new GPU, referred to internally as the RV670. The basic architecture of the hardware is largely unchanged from R600; there has been some additional functionality added, and a great deal of internal bandwidth removed, but other than that this is very much an R600 based part.

The biggest news of this part is that it is fabbed on a 55nm TSMC process. This is a half-node process based on 65nm technology, giving AMD an advantage in die size (cost) and potentially clock speed and/or power.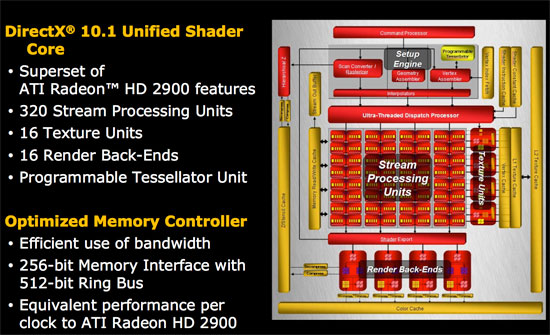 Historically, AMD's RV series has been a cost cut version of their R series designed for lower end volume parts, and that's where RV670 started. Right of the bat, half the external and internal memory bandwidth of R600 was cut out. External bandwidth dropped from 512-bit to 256-bit, but AMD stuck with 8 memory channels (each dropped from 64bit to 32bit).
Internally, the ring bus dropped from 1024-bit to 512-bit. This cut in bandwidth contributed to a significant drop in transistor count from R600's ~720M. RV670 is made up of 666M transistors, and this includes the addition of UVD hardware, some power saving features, the necessary additions for DX 10.1 and the normal performance tuning we would expect from another iteration of the architecture.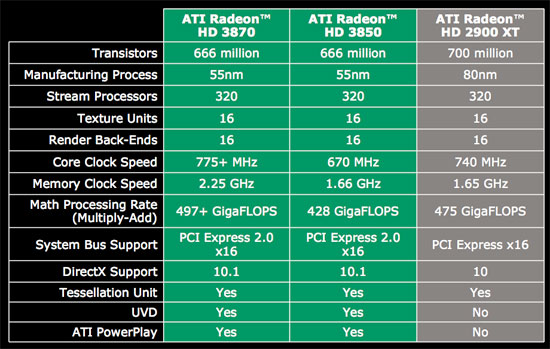 Processing power remains unchanged from the R600; the RV670 features 320 stream processors, 16 texture units and 16 redner back-ends. Clock speeds have gone up slightly and memory speeds have increased tremendously to make up for the narrower memory bus.
The RV670 GPU is also fully PCI Express 2.0 compliant like NVIDIA's G92, the heart and soul of the GeForce 8800 GT.