Windows 98 Performance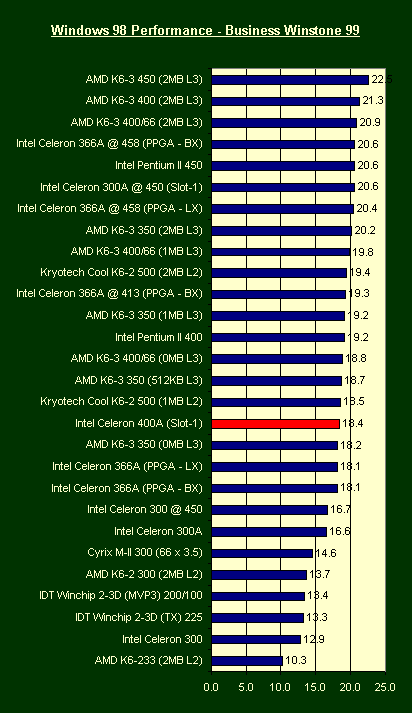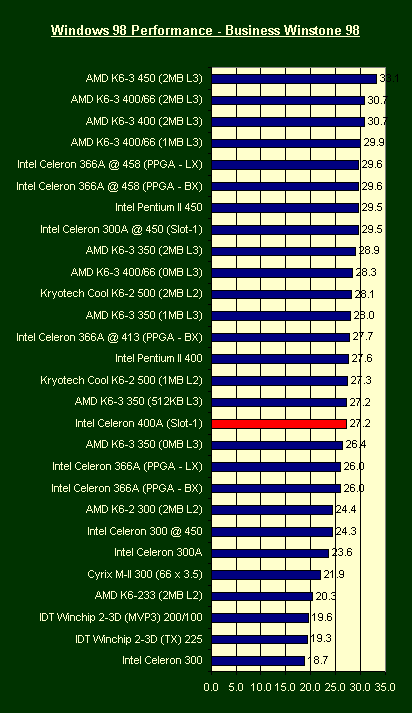 As you can see, under Windows 98, the Celeron 400 is just about as fast as the Pentium II 400, making the Pentium II 400 useless for most users. Although high-end workstations will still want to opt for Pentium II processors (in situations where the larger cache does count), most users out there, including "high-end" gamers will want the 400A over the old-school Pentium II 400.
Super7 users will find that the K6-3 is a better investment, provided that AMD can crank the chips out at a low enough cost to prevent their loyal followers from picking up a cheap 400A/MB combo, as the K6-3 will top the charts well into the release of the Pentium III. With a 500MHz K6-3 going up against a 500MHz Pentium III, the winner in terms of business application performance under Windows 98 does turn out to be AMD with the K6-3 by a very small margin, but one great enough to convince most Super7 users to hold on to their boards for a little while longer.