So Addictive
The first application listed on the iPhone's home screen is Apple's SMS text messaging app, and if you're not already a heavy texter, this application will change that.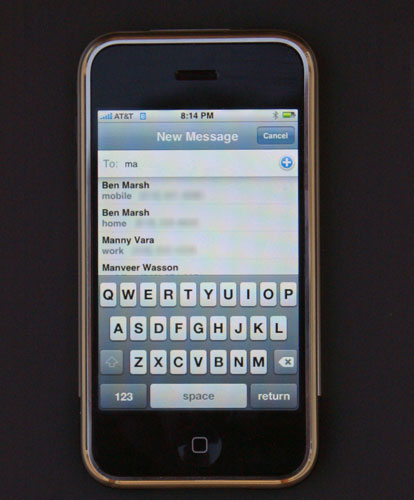 With a very iChat-like interface (iChat being OS X's IM client for the Windows users in the audience), the iPhone's messaging client does SMS right. Text messages are grouped according to contact and are stored in conversation format; you can always clear your history if it gets too cumbersome otherwise you've got a walking log of everything you've ever texted to anyone organized by contact.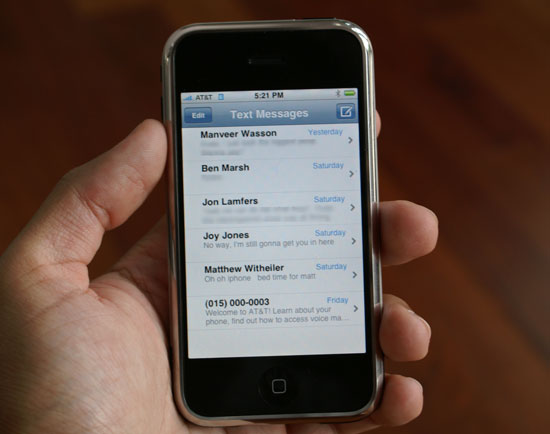 It seems like an oddly simple thing to get excited about, but honestly it's done so much better than the competition. On the Samsung Blackjack for example, each text message is handled as a separate message, much like email. If you and I are having a conversation, each message you send me, appears as a separate message in the inbox. The messages are not grouped together, they are simply organized in chronological order.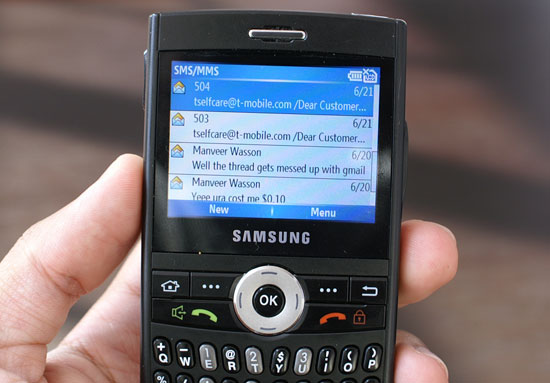 SMS on the Blackjack
While this makes sense for email, SMS is supposed to be used for shorter chats and thus it makes sense to group according to chat or contact.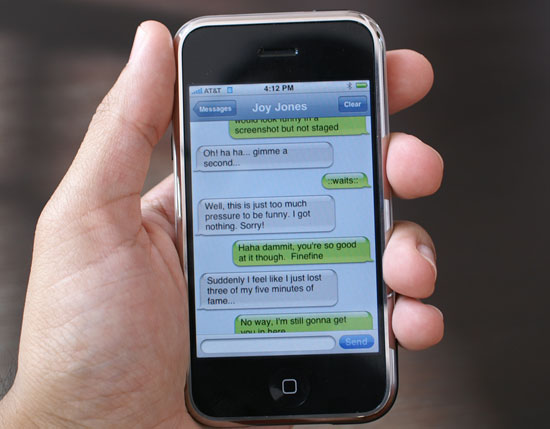 SMS on the iPhone, versus...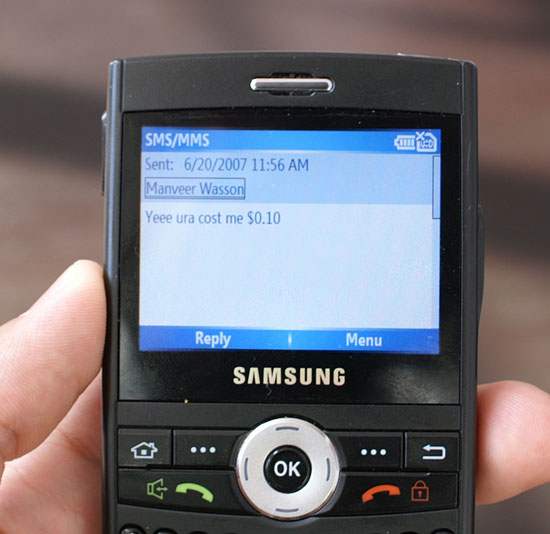 SMS on the Blackjack
The Blackberry comes a bit closer, while it doesn't group by contact or conversation, it keeps a partial record of all of your messages within a conversation in each message. It's like keeping a copy of your chat history in each new message that's received.
The iPhone's SMS application makes it almost too easy to send text messages; you stop thinking of each message you send as costing you money and look at it more like an IM conversation. While an IM conversation is free, sending that last message that just had the phrase "k bye" just ate into your SMS budget. AT&T still charges per message and although the iPhone data plan gives you 200 free, it's easy to burn through them.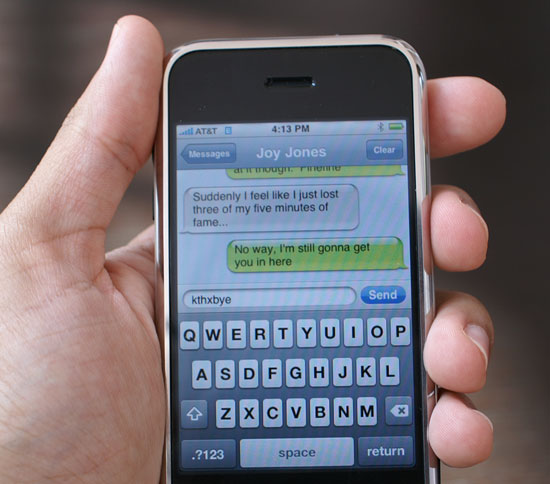 Is this last message worth $0.10?
AT&T was particularly sneaky in its SMS upgrade pricing, because in order to get any more text messages you have to upgrade to 1500 messages for an extra $10/month, there's no in-between. Of course for an extra $20/month you can send unlimited text messages, keeping in mind that is doubling the cost of your dataplan on the iPhone.
We hate to speculate that the reason the iPhone has no built in IM client is to encourage SMS use, as IMs would be covered by your unlimited data plan. While the iPhone's SMS application is great and absolutely necessary, we would like to see it augmented by AIM/GTalk support at the bare minimum.
As is already widely known by now, the iPhone only supports SMS and not MMS. If you're addicted to picture messaging, your only option on the iPhone is to email pictures to your friends. Now if all of your friends have iPhones then this works out perfectly.