The Elder Scrolls IV: Oblivion Performance
While it is disappointing that Oblivion doesn't have a built in benchmark, our FRAPS tests have proved to be fairly repeatable and very intensive on every part of a system. While these numbers will reflect real world playability of the game, please remember that our test system uses the fastest processor we could get our hands on. If a purchasing decision is to be made using Oblivion performance alone, please check out our two articles on the CPU and GPU performance of Oblivion. We have used the most graphically intensive benchmark in our suite, but the rest of the platform will make a difference. We can still easily demonstrate which graphics card is best for Oblivion even if our numbers don't translate to what our readers will see on their systems.

Running through the forest towards an Oblivion gate while fireballs fly by our head is a very graphically taxing benchmark. In order to run this benchmark, we have a saved game that we load and run through with FRAPS. To start the benchmark, we hit "q" which just runs forward, and start and stop FRAPS at predetermined points in the run. While not 100% identical each run, our benchmark scores are usually fairly close. We run the benchmark a couple times just to be sure there wasn't a one time hiccup.

As for settings, we tested a few different configurations and decided on this group of options:
| | |
| --- | --- |
| Oblivion Performance Settings | |
| Texture Size | Large |
| Tree Fade | 100% |
| Actor Fade | 100% |
| Item Fade | 66% |
| Object Fade | 90% |
| Grass Distance | 50% |
| View Distance | 100% |
| Distant Land | On |
| Distant Buildings | On |
| Distant Trees | On |
| Interior Shadows | 95% |
| Exterior Shadows | 85% |
| Self Shadows | On |
| Shadows on Grass | On |
| Tree Canopy Shadows | On |
| Shadow Filtering | High |
| Specular Distance | 100% |
| HDR Lighting | On |
| Bloom Lighting | Off |
| Water Detail | High |
| Water Reflections | On |
| Water Ripples | On |
| Window Reflections | On |
| Blood Decals | High |
| Anti-aliasing | Off |
Our goal was to get acceptable performance levels under the current generation of cards at 1600x1200. This was fairly easy with the range of cards we tested here. These settings are amazing and very enjoyable. While more is better in this game, no current computer will give you everything at high res. Only the best multi-GPU solutions and a great CPU are going to give you settings like the ones we have at high resolutions, but who cares about grass distance, right?

While Oblivion is very graphically intensive and is played mostly from a first person perspective (and some third person), this definitely isn't a twitch shooter. Our experience leads us to conclude that 20fps gives a good experience. It's playable a little lower, but watch out for some jerkiness that may pop up. Getting down to 16fps and below is a little too low to be acceptable. The main point to bring home is that you really want as much eye candy as possible. While Oblivion is an immersive and awesome game from a gameplay standpoint, the graphics certainly help draw the gamer in.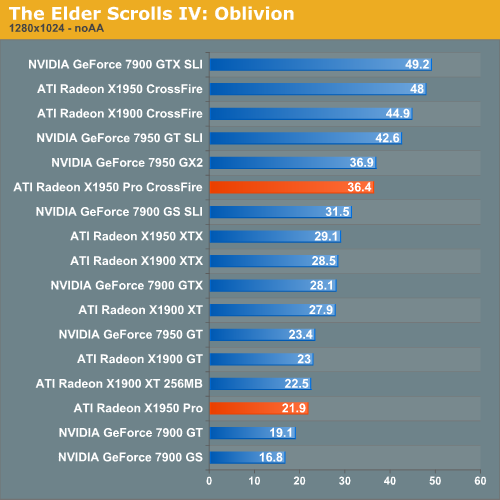 Oblivion finally shows an advantage for CrossFire as compared to SLI at the $200 card pricepoint. It still looks like SLI scales better over all (i.e. 7900 GS SLI is 88% faster than a single card, while X1950 Pro CF is only 66% faster than a single X1950 Pro), but this time even double the performance of a single 7900 GS card wouldn't be enough to beat the X1950 Pro CrossFire. We see the X1900 GT, X1950 Pro and X1900 XT 256MB all clustered together here in a rather unexpected order, but the variance of our oblivion benchmark is the culprit here. We can say that these cards all perform about the same under Oblivion, but pinning it down more than that isn't easy. No matter how we slice it though, ATI owns this benchmark.