GeForce 7900 Battle: GT vs. GS
With equivalent stock clock speeds and potential 14% and 20% advantages in vertex and pixel processing respectively, we have the opportunity to better understand how G71 scales with parallelism. The following graphs are percent increases in performance from the 7900 GS to the 7900 GT for teach game at each resolution tested.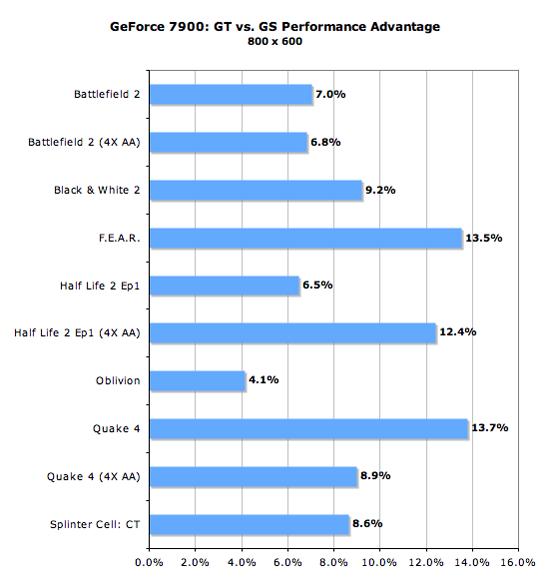 800 x 600
1024 x 768
1280x1024
1600x1200
1920x1440
The 7900 GT shows at most a 15% performance improvement over the 7900 GS in our testing. The largest performance improvement is under Oblivion at a relatively low resolution. Most of the biggest improvements seem to appear at 1024x768. As we increase resolutions, we become more bandwidth limited, and with both cards offering the same amount and speed of memory the scores begin to tighten up. Interestingly, Half-Life 2 shows zero performance difference between the GS and GT at higher resolutions. These cards are by no means CPU bound under such conditions, so we seem to have run into a bandwidth bottleneck.