Drive Options
One of the biggest complaints about the PowerMac G5s was that the chassis, despite being absolutely massive, only featured two 3.5" hard drive bays and no room for extra optical devices. The new Mac Pro chassis, although identical from the outside, has been totally revamped on the inside to accommodate a total of four 3.5" SATA hard drives and up to two optical drives.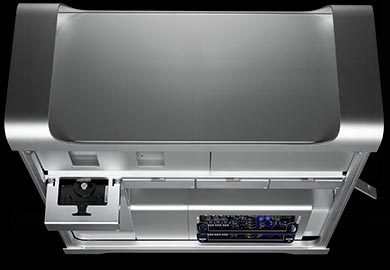 Apple allows you to order your system with as few or as many of these bays populated as possible, but if you look closely at the pricing, you may want to avoid letting Apple upgrade your hard drive for you. Below we compared the price of Apple's drive upgrades to the best prices we were able to find for various 500GB drives on our Real Time Price Engine:
| | |
| --- | --- |
| Drive Upgrade | Price |
| Apple Store: 500GB Upgrade | $200 |
| Apple Store: Extra 500GB | $400 |
| Hitachi Deskstar 7K500 500GB | |
| Maxtor DiamondMax 11 500GB | |
| Seagate Barracuda 7200.10 500GB | |
| Seagate Barracuda 7200.9 500GB | |
| Western Digital Caviar SE16 WD5000KS 500GB | |
For $200 more Apple will swap the default 250GB SATA drive for a 500GB unit, manufacturer and model unspecified. Compared to the cost of a stand alone 500GB drive, Apple's upgrade is the cheapest you can get, however the better route is to have Apple leave the 250GB intact and simply pay $209 for another 500GB drive giving you a total of 750GB of storage for the same price that Apple would charge you for 500GB.
Populating the 2nd, 3rd and 4th drive bays with a 500GB drive costs $400 a pop at Apple, the choice here is simple: buy the drive on your own. Note that you can currently buy Seagate's 750GB drive for as little as $346, a far better bargain than Apple's $400 upgrades. Unlike video cards which require Mac specific versions, all SATA hard drives should work just fine on the Mac Pro.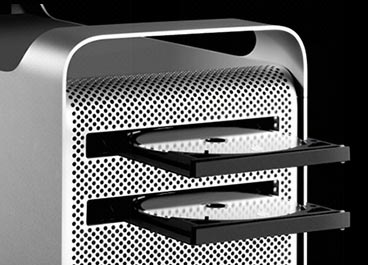 Apple also moved to a two optical drive layout with the new Mac Pro; currently you have the option of upgrading to two SuperDrives, but we'd expect that in the future one of those bays may end up with a Blu-ray or HD-DVD drive in it.