Features
SN27P2 Features
FORM FACTOR
Shuttle Form Factor P2 Chassis
PROCESSOR
Socket AM2 - AMD Sempron/Athlon 64/FX/X2 Processor
CHIPSET
NVIDIA nForce 570 Ultra MCP
MEMORY
DDR2 400/533/667/800 Dual Channel Unbuffered RAM
(4) x 240 pin DDR2 DIMM Slots
Max 8GB
ATA
(3) SATA 3Gb/s with RAID 0[c] 1[c] 0+1[c] 5[c] JBOD plus
(1) SATA 3Gb/s e-SATA
(1) ATA UltraDMA-133
EXPANSION SLOTS
(1) PCI-E X16
(1) PCI
AUDIO
Realtek ALC882 HD Audio
7.1 + 2 HD Channels
ETHERNET
Marvell 88E1116 Gbit LAN PHY Supports 10/100/1000 Mbps
IEEE1394
VIA VT6307 controller
ONBOARD CONNECTORS
(3) 4-pin Fan Connectors
(1) 3-pin Fan Connector
(1) 8-Pin Proprietary Power Connector
(1) 6-pin Proprietary Power Connector
FRONT PANEL
(2) USB 2.0 Ports
(1) Mini IEEE1394 Port
(1) Mic In
(1) Earphone Out
(1) Power on button
(1) Reset button
(1) HDD LED
(1) Power LED
BACK PANEL
(6) USB 2.0 Ports
(1) RJ45 10/100/1000 Mbps LAN Port
(1) IEEE1394a Port
(1) External SATA Port
(1) S/PDIF Coaxial Out
(1) S/PDIF Optical In
(1) S/PDIF Optical Out
EXPANSION BAY
(1) 3.5[q] Bay
(2) 3.5[q] Bay (internal)
(1) 5.25[q] Bay
DIMENSIONS
325(L) x 220(W) x 210(H) mm
POWER
SilentX 400W (PFC) Power Supply Unit
We've already covered at least one of the major changes from the older P series: the exclusion of the flash memory reader. Shuttle has also removed another feature that some people will miss: no more legacy PS/2 ports.
This means you will need a USB keyboard and mouse
.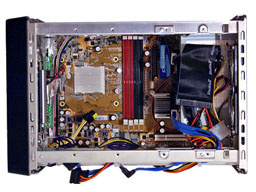 Click to enlarge
The remaining changes are generally minor, but there's one major addition: you now get four DDR2 DIMM slots. Each slot can be used with a maximum 2GB DIMM, giving you the option of running up to 8GB of RAM. Most people won't need that much memory right now, but with the looming launch of Windows Vista and 64-bit applications, not to mention quad core processors, that's not an inconceivable upgrade to make sometime during the life of the system.
Shuttle has now switched to HD audio, provided in this case by the Realtek ALC882 chipset. Several of their previous AMD SFF offerings included onboard Creative SoundBlaster Live! audio, but now that NVIDIA's chipsets support HD audio such steps are not required. Still, we wouldn't mind seeing an upgrade to Creative Audigy or X-Fi, especially considering the limited expansion possibilities. That said, most people will find the onboard audio to be more than sufficient, and S/PDIF in/out ports give you the option of hooking up to a home entertainment center.