Product Specifications and Information
OCZ confirmed the use of Micron memory chips for their PC2-8000 EL memory. This new Micron chip is also a variant of the D die provided in 64x8 chips for the 2GB memory kits. OCZ provides this memory as the 1GB DIMMs we are testing in P/N OCZ2P10001GEE. The PC2-8000 EL is also available as 512MB DIMMs - P/N OCZ2P1000512EE. Both the 512MB and the 1GB DIMMs are available as matched pair kits of 1GB and 2GB.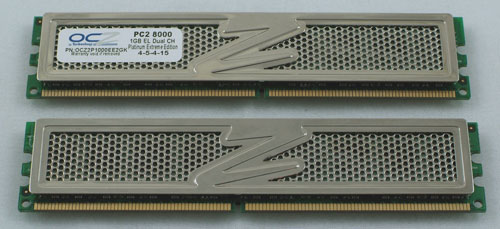 Typical of OCZ memory, the PC2-8000 EL kits and DIMMs carry a lifetime warranty. Rated performance is at 2.1V compared to the DDR2 standard voltage of 1.8V. OCZ also provides EVP (Extended Voltage Protection) for these DIMMs, providing the full warranty to users operating the PC2-8000 parts up to 2.2V +/- 5%. That translates to a practical upper limit for warranty service of 2.3V.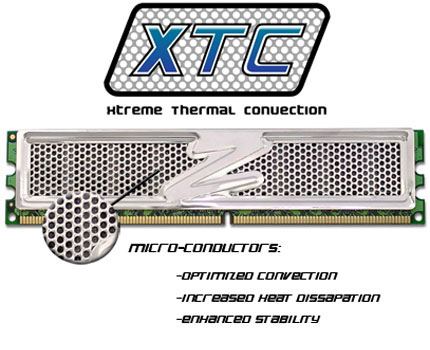 The PC2-8000 EL also features the new OCZ XTC heat spreaders. These new heat spreaders claim optimized convection and better heat dissipation than previous designs. Removing heat shields is a lot more risky with surface-mounted chips on DDR2 as they can easily pull away from the PCB still attached to the thermal tape. For that reason we did not test OCZ's claims.
The XTC heatspreaders are certainly a great deal lighter than any non-perforated designs. They also appear to work well in dissipating heat, though to be honest we have found in the past that heat-spreaders provide very little improvement in heat dissipation compared to bare DIMMs. The larger surface area ought to benefit from active cooling and the DIMMs also have a unique look that some might find appealing. However, the bottom line is whether or not this memory lives up to performance expectations, and that's what we're here to find out.