iWork '06 Performance with Pages and Keynote
Now, let's shift our attention to Apple's iWork suite, with Pages 2 and Keynote 3.  For the Pages test, I simply timed how long it would take to export a 116-page document to PDF.  The test was single-threaded, so I'm only showing the Core Duo and G5 performance bars here: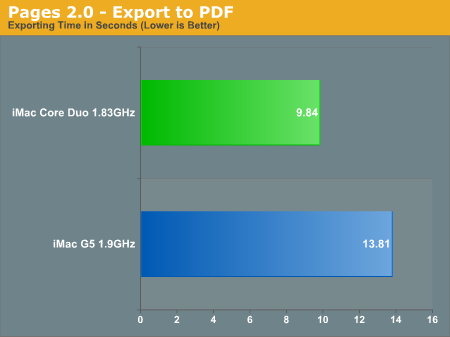 The performance advantage is pretty decent here, as the Core Duo completes the task in about 30% less time than the G5. 
For Keynote, there are two tests that I ran, both involving exporting a presentation.  The first test exports the presentation to a PowerPoint (.ppt) file, which is a task that is pretty common for Keynote users: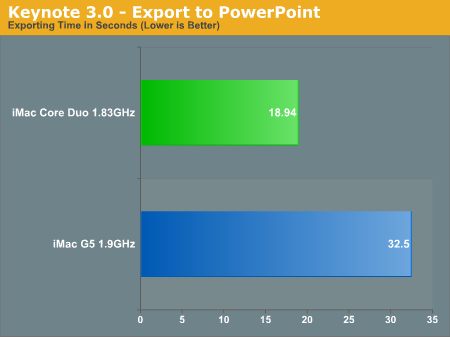 The single-threaded test is much faster on the Core Duo, which completes it in a little under 60% of the time of the iMac G5. 
The next test is exporting a smaller presentation to a Quicktime file, using the default export settings.  This test is multithreaded, so we have the Core Solo in there again: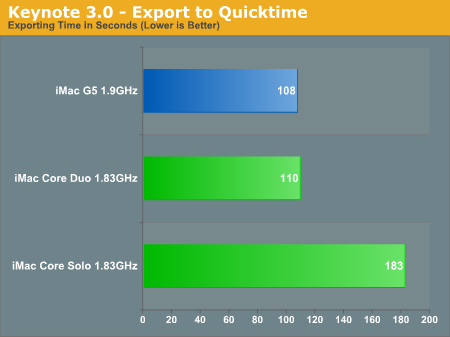 Interestingly enough, the iMac G5 actually pulls ahead in performance here by two seconds.