Intel Centrino Duo, by Dell
Dell also showed off their Inspiron E1705, their first and currently their only Centrino Duo based notebook. As the name implies, the notebook features a 17" widescreen display and an Intel Core Duo processor (single core versions will also be available). It is currently offered with either a T2500 (2.0GHz) or a T2400 (1.83GHz) Core Duo processor.
Although Dell is supposed to be shipping immediately, their online store doesn't have a preliminary ship date listed when you go to configure a machine.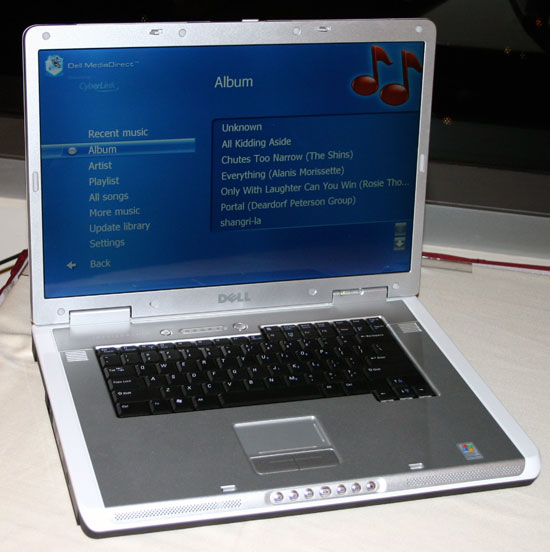 Dell gave us a demo of the Inspiron E1705 with its new Dell MediaDirect 2.0 instant-on feature. Basically within 12 seconds of starting MediaDirect 2.0 you have full access (via a pre-OS environment) to any device connected to the notebook. That includes USB drives, media cards, the DVD drive and even the entire internal hard drive (as well as any external drives). With access to all of these devices you can view pictures, watch movies (any format that is supported by Windows Media Player) and listen to non-DRM protected music.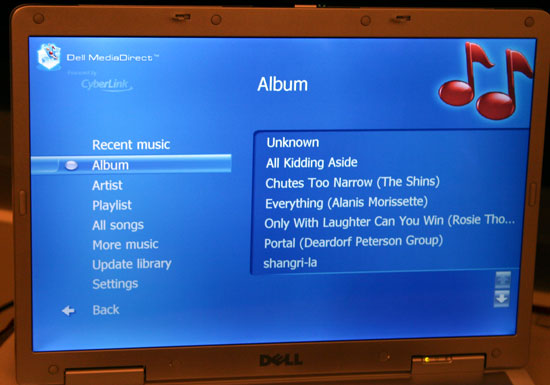 The MediaDirect 2.0 interface is very media center like and designed to minimize the amount of time needed to get your notebook up and running to a state where it can function as a portable media player.
We are expecting to have our review sample of the Inspiron E1705 in the next week or two.