Dell's Mobile Concept PC
The final item of interest that Dell was showing off at the show was their Mobile Concept PC.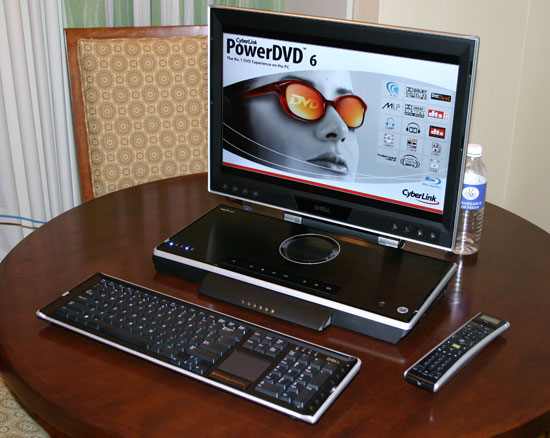 Click to Enlarge
The premise behind the PC is a unique one; it is a Media Center PC, based on a Core Duo platform, with a built in 20.1" LCD monitor, that can be folded up and used as a transportable.
The system has a Bluetooth keyboard (that can charge on the system itself) and mouse as well as a Media Center remote. Internally it's basically a notebook with discrete graphics and support for up to two 2.5" hard drives running in RAID.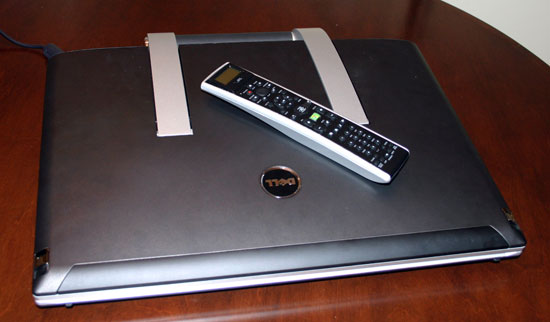 The back of the LCD is covered in a leatherette material and the system has a leather handle you can use to carry it around.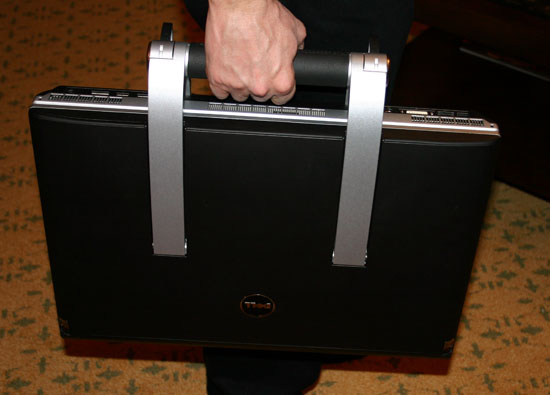 Dell has apparently been working on the system for a couple of years now and are mainly interested in whether or not you all would like to see something like this brought to market. We were quite skeptical of its usefulness when we saw it, but discuss amongst yourselves - would something like this be interesting to you?
If priced competitively enough, we figured it could be decent for college students to use in their dorm rooms since they could easily take it with them whenever they left school for the holidays.
Dell looked at it as a lifestyle sort of PC, almost in a very Apple-esque fashion, however in our opinion for Dell to pull that off the machine would have to look a lot more stylish.
The transportable aspects of the system are interesting, and Dell even promised that unteathered the system would have up to 3 hours of battery life. Dell also mentioned that the final system should be around 17 lbs, which isn't terrible to move from one location to another. Note that it isn't designed to be a notebook, just a portable desktop that you would occaisonally move from one location to the next.
We are still quite skeptical of the design, but once again, Dell wants to hear from you - so give them feedback by leaving your comments.