Dell's Quad SLI , 4.26GHz, Dual Core XPS Renegade System
The most surprising announcement of the day from Dell was the limited edition Dimension XPS 600 Renegade system.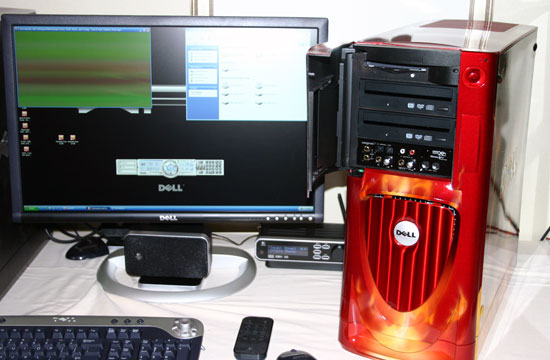 Based on Intel's Pentium Extreme Edition 955 and the nForce4 SLI X16 Intel Edition chipset, this is the first Dell that will undoubtedly outperform just about anything we've seen to date.
For starters, the Pentium Extreme Edition 955 that is used in the Renegade is unlocked and Dell increased the default clock multiplier from 13.0x (3.46GHz) up to 16.0x for a factory overclocked speed of 4.26GHz - warrantied.
To cool the dual core processor running at 4.26GHz, Dell resorted to an absolutely huge copper heatsink which you can see pictured below: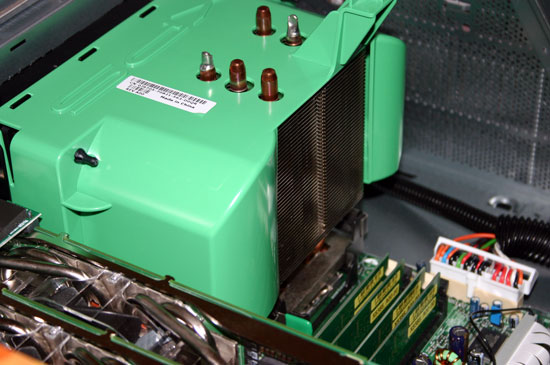 We were surprised to see that no water cooling was employed, but given that we're talking about a 65nm Presler core it's not too surprising. If Dell is able to reach 4.26GHz and warranty it, we'd expect most avid overclockers will be able to do the same with proper cooling.
As if the extremely overclocked CPU wasn't enough to begin with, NVIDIA stepped in and outfitted the system with two dual-GPU GeForce 7800 GTX 512MB cards, for a total of four GPUs running in SLI mode with 2GB of total on-board memory.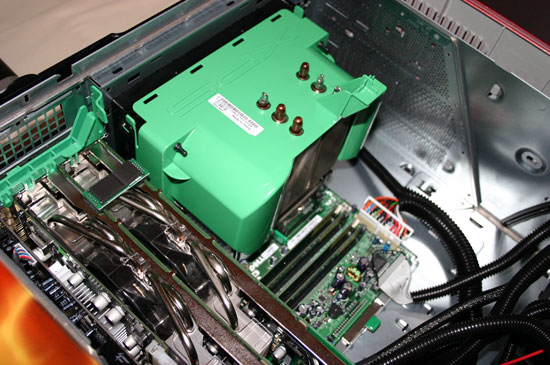 The shipping version will feature Quad-SLI, not pictured above
The system will also ship with two Western Digital 150GB 10,000RPM Raptor drives.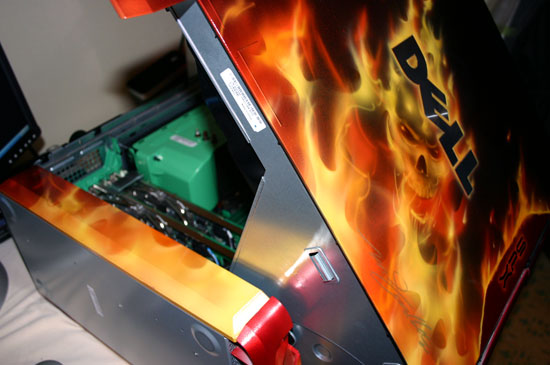 The icing on the cake is that each and every system features a hand painted chassis and Dell will only produce a limited number of them. No word on pricing or quantities on the system, although Dell tells us that it should be available to order sometime this quarter.