Introducing the Gefen DVI DL
Fairly well-known in the home theater community for their HDMI switch boxes, Gefen was the logical choice for finding a dual link DVI KVM. The benefit of a DVI based KVM is that a lot of the issues that plagued old analog VGA KVMs are no longer a problem, thanks to the fact that DVI-I signals are transmitted in the digital domain, meaning that the signal that leaves your computer is exactly what gets displayed on your monitor. With analog VGA based KVMs, you often had image quality degradation at higher resolutions, especially if you happened to have a lower quality KVM. So, in theory, thanks to an all-digital connection, we should have no problems with just about any DVI based KVM switch. Our confidence in the DVI specification aside, we had heard very good things about Gefen, once again from the home theater community - and if anyone has a very critical eye when it comes to image quality, it is the home theater community.
Priced at $399, the Gefen DVI DL is not cheap, but neither is the monitor you'd be hooking this up to, so although we don't agree with the price premium, this product isn't exactly targeted at the low end of the market. So, after you're done buying your $600 video card and $2500 monitor, what's another $400 for the DVI DL?
The Gefen DVI DL is a fairly simple device that acts as an electrical switcher between two computers. The DVI DL will switch between two dual link DVI inputs, analog audio as well as USB 2.0. It is important to note that the DVI DL does not provide USB or DVI "emulation"; in other words, when you switch between systems, it is akin to unplugging the USB and DVI cables from one system and plugging them into the other - that's exactly what the OS "sees" when you switch using the DVI DL. Some units do provide USB emulation, but we'll address this topic later on as we talk about our experiences with the DVI DL.
The unit itself isn't incredibly stylish, but it is functional. At the front, you have a power LED, IR receiver for remote control switching, a pair of indicator LEDs that tell you which system you're switched to, a select button and two EQ adjustments. The EQ adjustments are to fine tune the DVI signal to compensate for sending it over longer than normal cable lengths. Each system gets their own EQ knob, which can only be adjusted with a very small phillips or flat head screw driver.

On the rear of the unit, you have three DVI ports, four USB ports (2 type A and 2 type B), and three 1/8" audio ports. There is also a connector for the AC adapter on the rear of the unit.

Gefen ships the unit with an IR remote control. The remote works very well from fairly long distances, but as with all IR devices, you need to have line of sight to the unit in order for the remote's commands to register. The remote is powered off of a single 3V CR2032 watch battery, and Gefen is kind enough to supply you with two batteries when you order the unit. Unfortunately, while you do get a remote control, the DVI DL does not support any keystroke combination switching, which is a fairly large downside in our opinion.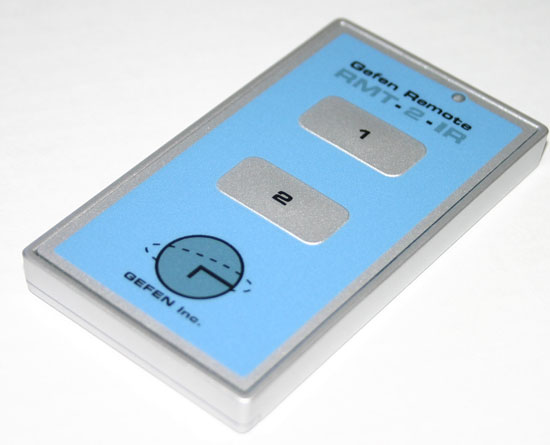 Unlike most KVMs, the DVI DL comes complete with all of the cables that you'll need to get it up and running. You get two DVI cables, two USB cables and two 1/8" audio cables. For whatever reason, the DVI and USB cables are in Gefen's unusual blue color, which tends to not match anything, so you may want to keep your cables hidden if you are trying to put together that oh-so-stylish Apple workspace.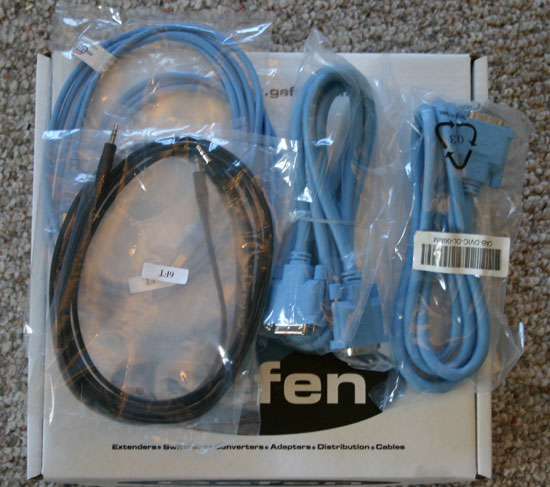 The setup is fairly simple, but it can be confusing if you don't think of the inputs and outputs from the perspective of the switch box. It's pretty easy to guess which one of the three DVI ports goes to your monitor; it is the one labeled "DVI Out". The DVI 1 and DVI 2 ports connect to the DVI outputs on the two systems that you are going to be switching between. The same applies to Audio 1 and Audio 2, with Audio Out going to your speakers.
The only somewhat confusing aspect of the setup deals with USB setup. The two type A ports are labeled USB Out, and this is where you plug in the USB devices that you wish to switch between computers (e.g. keyboard, mouse, etc.). You can even plug in a USB hub to these ports if you'd like (more on that later). The two type B ports are for connecting to your computers: In 1 goes to the first computer and In 2 goes to the second. Obviously, it's very important that DVI 1, In 1 and Audio 1 all go to the first computer, and all of the ports marked "2" connect to the second computer. Otherwise, you'll only be switching some of the components to the right system when you go to hit the select button.