Performance and Quality: Game Tests
For these tests, we will be looking at RightMark 3DSound 2.0 and Battlefield 2. With the possibility of twice the number of voices supported by Audigy, we can't do a direct comparison at some points. However, we will see how much impact going from 62 to 127 voices can have.
Our test system included these components:
NVIDIA nForce 4 based motherboard
AMD Athlon 64 FX-55
1GB DDR400 2:2:2:8 RAM
NVIDIA GeForce 7800 GTX
120GB Seagate 7200.7 HD
Our RightMark tests show that the Audigy 4 Pro uses less CPU power per setting than the X-Fi. This was a little confusing at first, but we have our thoughts on why this happens. It seems to make sense to us that the X-Fi driver is more complicated than the Audigy driver. We therefore see slightly lower performance from the X-Fi card. With the X-Fi being brand new, driver improvements could also change the performance picture over time.
This performance issue should be different on the higher end X-Fi cards with games that support X-RAM. Unfortunately, we can't test this yet as no games we looked at have this ability. Storing uncompressed audio and not needing to run an MP3 or Ogg decoder in the background would help to significantly lighten the CPU load on most games. Note also how CPU usage increases nearly linearly with the number of voices used.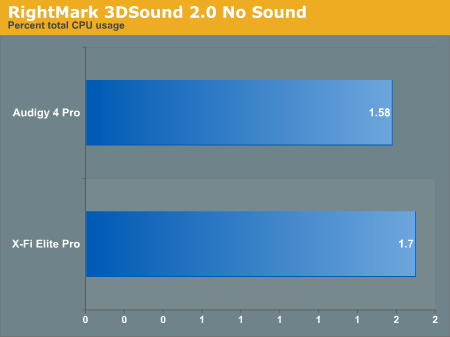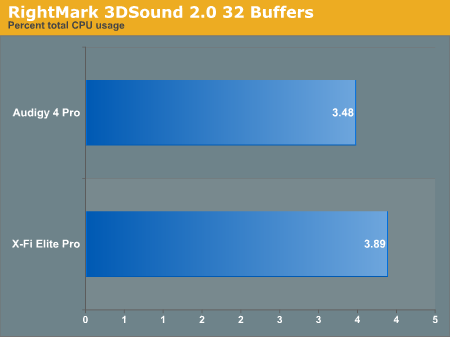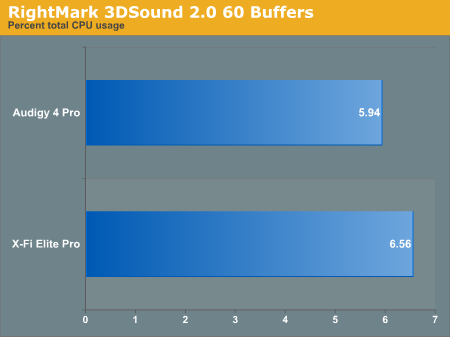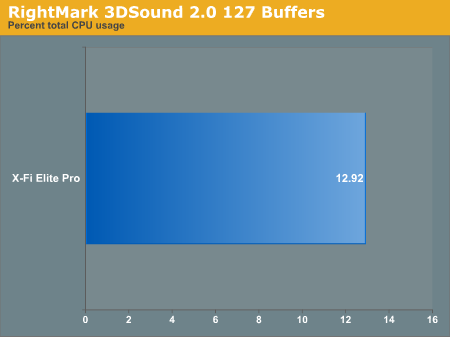 For Battlefield 2, we ran our usual test at medium quality settings at 1024x768. The Ultra High quality option in Battlefield 2 is only accessible with an X-Fi card (which likely means it employs more than 62 voices). As we can see, BF2 performance is consistent with our RightMark numbers. The X-Fi gives us just a little lower performance than the Audigy. It is nice to see that going from High Quality to Ultra High Quality on the X-Fi doesn't incur a significant performance penalty though.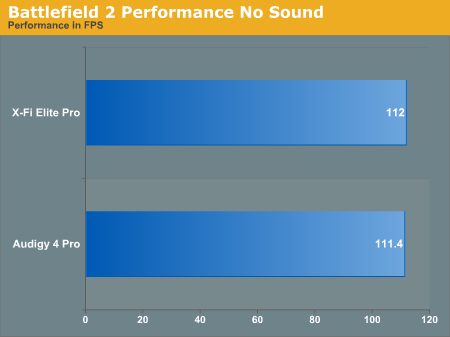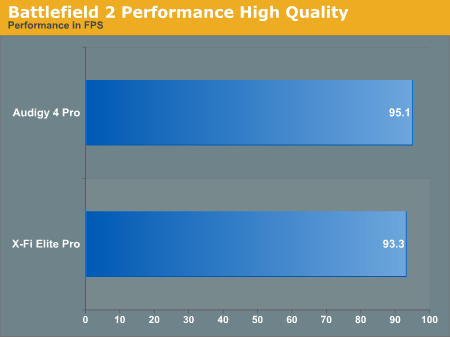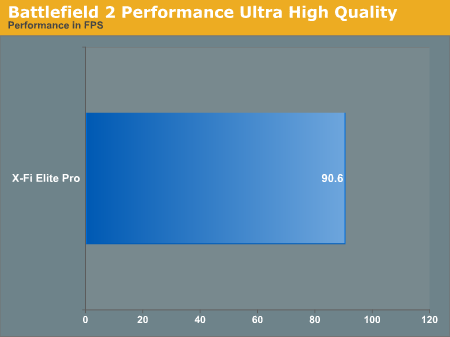 We'd really like to see such an expensive audio solution offer nearly equal performance compared to running without sound; at present, both the Audigy 4 Pro and X-Fi take a 15% peformance hit when switching to high quality audio. That may come with future titles and updated drivers, but for now the X-Fi is no better than the existing cards at reducing CPU overhead. Quantitatively, X-Fi should be the better card, and the 1% or less difference in CPU load isn't a big deal. In current games, it's tough to notice a difference.