Internals
After benchmarking both monitors, we opened them up to get a more in-depth look at the individual apparatuses. Doing this will certainly void your warranty, and most likely irrevocably damage an Apple Cinema display. The acrylic bezels on the sides of the Apple Cinema displays seem extremely fragile, and we actually put a hairline crack in our bezel during the course of the evaluation.
The internals of our Apple Cinema 20" display reveal nothing particularly interesting. Since the Apple relies only on digital inputs, the digital signal processor (DSP) for our display is relatively small. The majority of the circuitry on the PCB inside the monitor is reserved for the USB and Firewire pass-through, with some small logic in place for the touch pad. Likewise, since the Apple display relies entirely in digital signals via digital inputs, input controls are fairly limited.
The Apple M9177LL obtains power from a funny looking white power brick; so the DC circuitry inside (right) the display is also compact. You can also catch a glimpse at the USB inputs along the bottom left of the monitor in this picture.
cryptic IC Summary
that claims the gm1501 is only capable of SXGA resolutions. For those more interested, you may wish to check out the detailed summary on the nearly identical
gm1601
, which appears to only differ by signal type.
LG.Philips LCD LM201W01
We mentioned it already a few times, but the Apple Cinema 20" and Dell 2005FPW revolve around the same
LG.Philips LCD LM201W01 panel
. Boasting a 7ms Tr and 9ms Tf response time with 12ms gray-to-gray average response times, the LM201W01 is definitely a quick panel when compared to PVA and MVA displays. We dug around a little bit and actually found this
Product Specification document
that details some of the exact measured specifications from LG.Philips, although it is about a year old by now.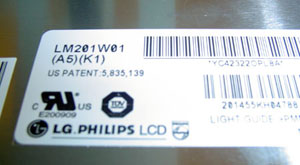 Apple 20" Cinema Display
Click to enlarge.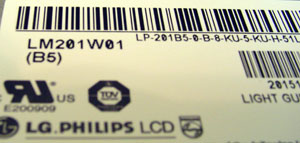 Dell UltraSharp 2005FPW
Click to enlarge.