Final Words
With the CT-479, ASUS has effectively demolished all other desktop Pentium M solutions. There's no reason to even consider an 855GME motherboard from AOpen or DFI; the ASUS solution is cheaper, better performing and is even a much more stable overclocker. Kudos to ASUS for a job extremely well done with the CT-479. It's the only option that we'd recommend for those interested in a desktop Pentium M system.
That being said, despite being paired with enough memory bandwidth, the Pentium M continues to fall behind in desktop performance. As a gaming platform and as a general purpose/office machine, the Pentium M does fairly well, but it is in content creation, workstation and media encoding applications that the Pentium M continues to fall behind. Part of the problem is that the Pentium M needs clock speed to compete, which we saw when we overclocked it up to 2.56GHz. But even at 2.56GHz, the Pentium M wasn't a competitive CPU when it came to tasks like media encoding, indicating that if the Pentium M is to succeed on the desktop, it's going to need some architectural improvements.
At this year's Spring IDF, Mooley Eden (head of the design team who brought us the original Pentium M) diagramed the architectural features that would be improved in the next version of the Pentium M (code-named Yonah). All of the architectural improvements, outside of the move to dual core, involved SSE and floating point performance - the two major weak points of the Pentium M's present day desktop performance.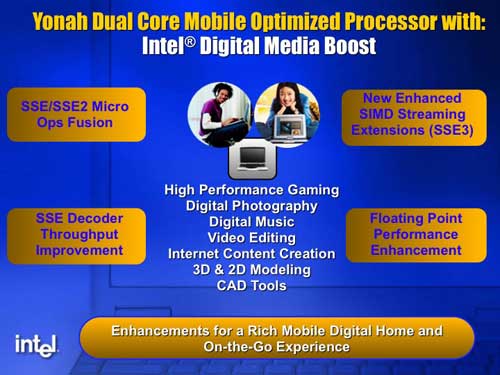 It would appear that Intel is doing their best to make the Pentium M even more desktop friendly in Yonah. While ASUS has done the best that they can to give the Pentium M a hospitable desktop environment today, we may have to wait until Yonah for it to make a lot of sense on the desktop.