PowerBook G4 Memory
Four manufacturers sent us memory for our PowerBook G4 test platform - all memory was 100% compatible and exhibited no issues. We tested on a previous generation 15" PowerBook G4 1.5GHz (the model that was just recently replaced by a 1.67GHz model).
The PowerBook G4 requires a 200-pin PC2700 (DDR333) SO-DIMM; PC3200 DIMMs can be used, but they will just run at PC2700 speeds. As is normally the case with Apple systems, the memory timings are set by the module's SPD, which is the same across all vendors, so all memory sticks perform identically. All of the manufacturers here have a lifetime warranty, so the defining comparison here is based on price:
| | | |
| --- | --- | --- |
| PowerBook G4 Memory | 512MB SO-DIMM | 1GB SO-DIMM |
| Apple Upgrade | $150 | $500 |
| Corsair | $84 | N/A |
| Crucial | $100 | $410 |
| Kingston | $151 | $448 |
| PDP | $90 | N/A |
Although Apple's store pricing on the 512MB PowerBook upgrade is in line with Kingston's pricing, Corsair takes the win here at $84. PDP was also fairly competitive, but much more difficult to find online. If you're looking for 1GB modules, Crucial's upgrade is $90 less than what Apple is asking for.
Corsair
Corsair only submitted 512MB SO-DIMMs:
Corsair Value Select VS512SDS333 (512MB)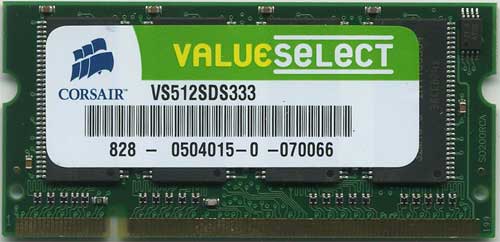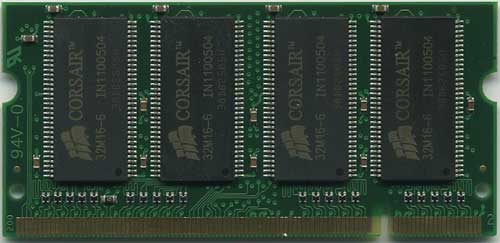 The best place that we found the Corsair Value Select SO-DIMMs was at Newegg.
Crucial
Crucial sent in both 512MB and 1GB SO-DIMMs for the comparison. Crucial's website has a very useful tool that makes finding the right memory for your MAC extremely simple. Interestingly enough, despite their relationship with Micron, Crucial's SO-DIMMs use Samsung chips.
Crucial CT368652 (512MB)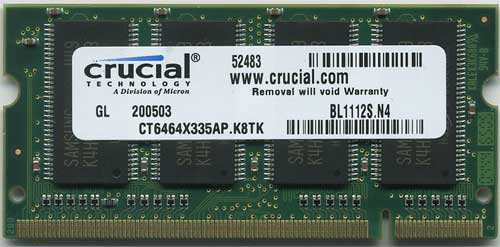 Crucial CT368654 (1GB)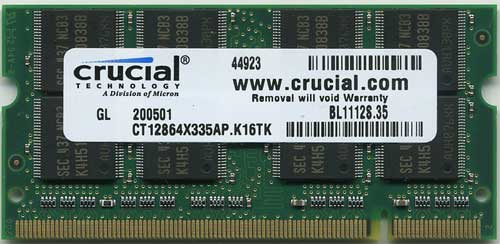 Crucial's website was the best place that we found to purchase the memory.
Kingston
Kingston sent both 512MB and 1GB modules:
Kingston KTA-PBG4333/512 (512MB)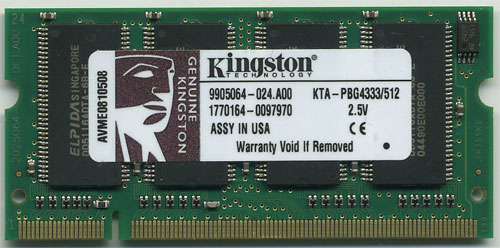 Kingston KTA-PBG4333/1G (1GB)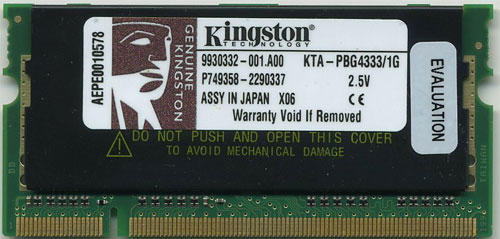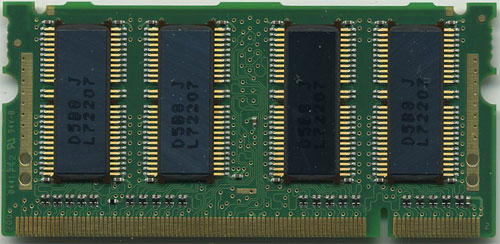 The 1GB modules had a protective covering as you can see above, to protect the fragile memory die that appears to be left exposed underneath. This type of packaging helps improve power delivery to the memory.
Your best bet for finding low prices for Kingston memory is through a price comparison engine.
PDP
PDP sent both 512MB and 1GB samples:
PDP PSA512G4PB (512MB)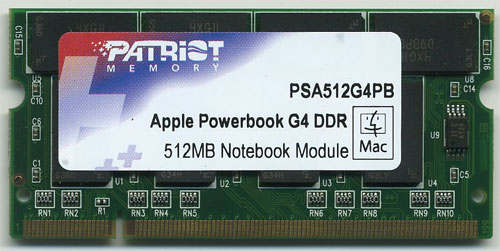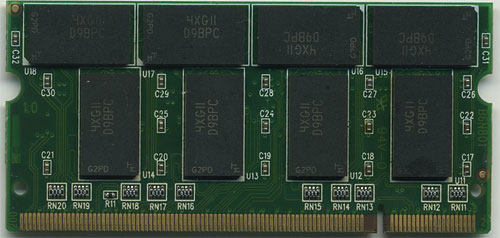 PDP PSA1GG4PB (1GB)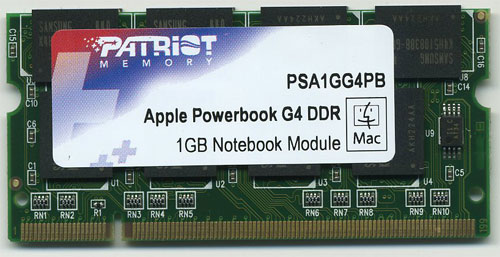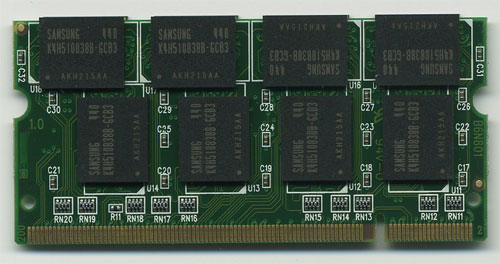 PDP was the only manufacturer to use BGA packaged memory, which offers better power delivery as well as the ability to hit higher frequencies. Obviously that doesn't matter for Mac memory, since you are stuck at DDR333 speeds in the PowerBook, but it is interesting to see PDP stray from the pack here.
Unfortunately, finding these parts in stock anywhere online proved to be quite difficult. Your best bet is to try PDP's website and search all of their listed vendors.