Gaming Performance
Wolfenstein-Enemy Territory-Radar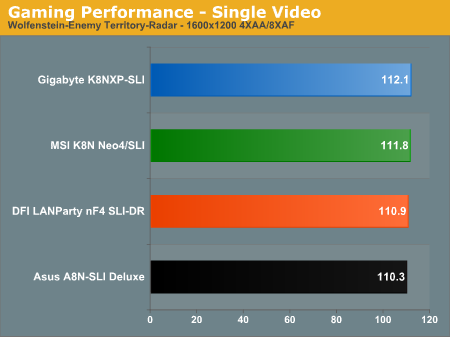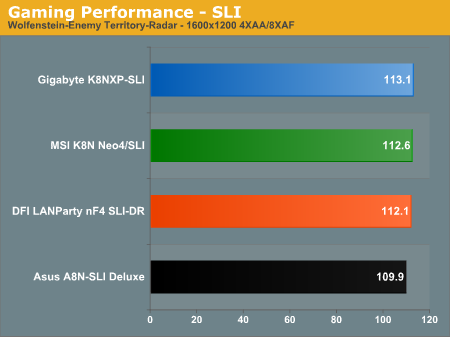 Doom 3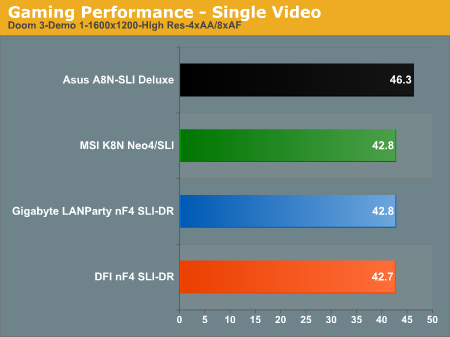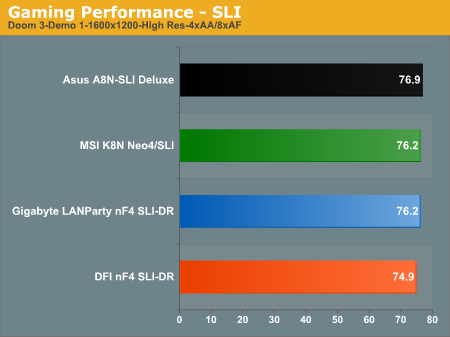 Aquamark 3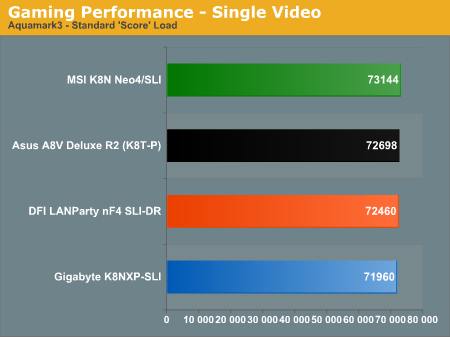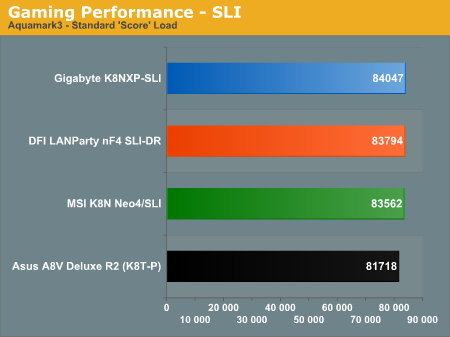 Quake 3 Arena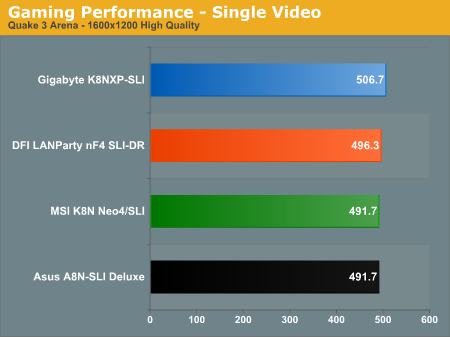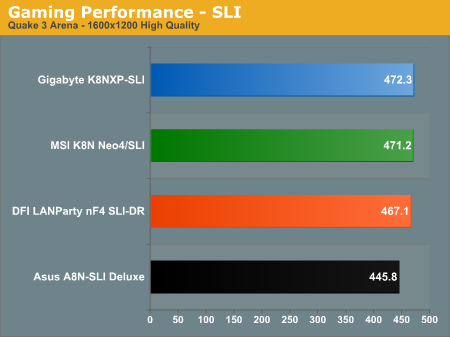 UT2004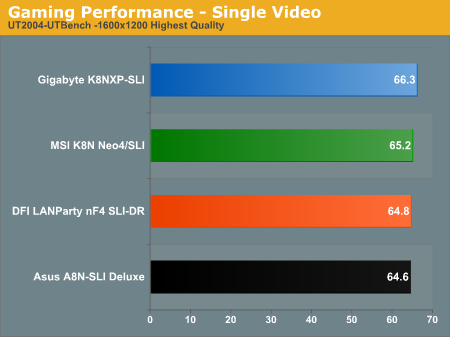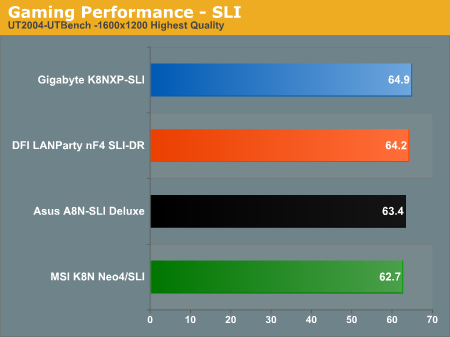 Far Cry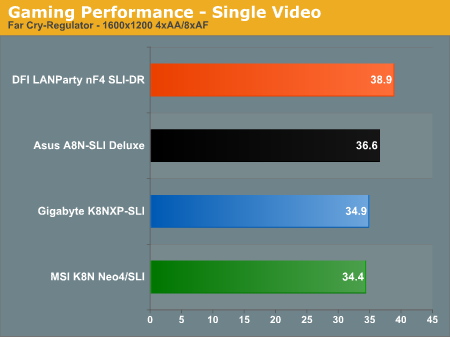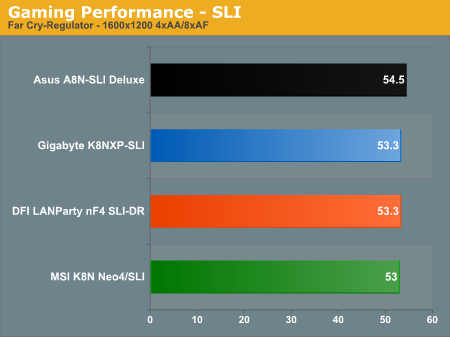 Half-Life 2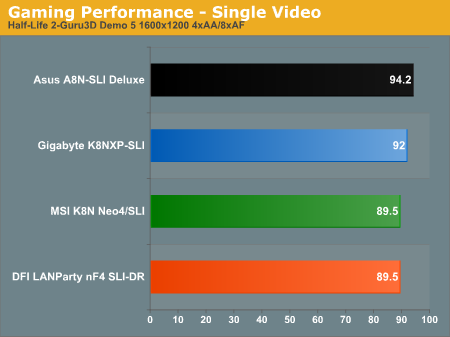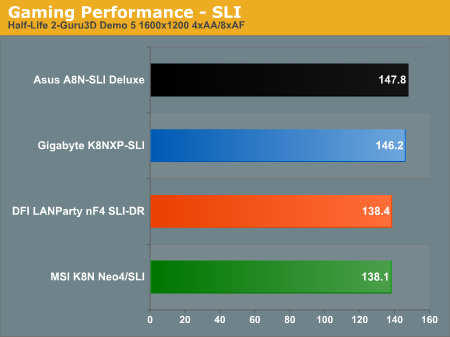 3DMark03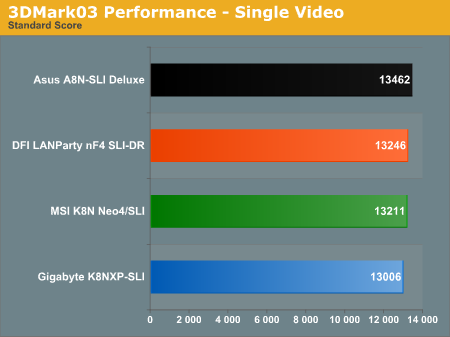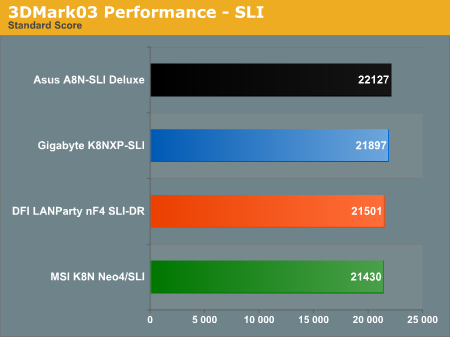 3DMark05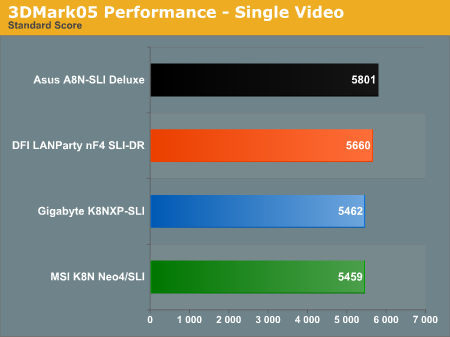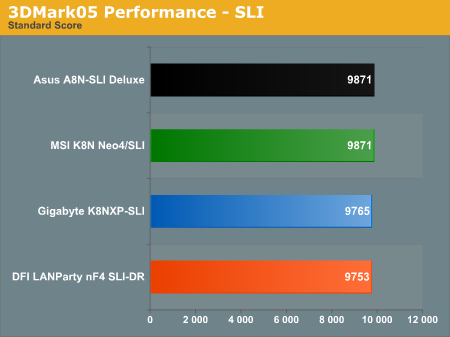 The most interesting result in looking at single video and SLI performance at 1600x1200 is the fact that no single leader emerges in our benchmarks at stock speeds. Any of the 4 tested SLI boards will provide great gaming performance at stock speeds in either single video or SLI modes.
When it was first reported that nVidia SLI supported FutureMark 3Dmark05 and 03, many gamers considered the support something of a joke. But as you can see in the benchmarks, both 3DMarks are very good at demonstrating the potential impact of SLI on gaming performance. Moving from single video to SLI increases 3DMark05 performance by almost 80%. Similarly, we see a performance increase of over 60% in 3DMark 03 when we compare results with a single video card to SLI. Aquamark 3, another "standardized" 1024 benchmark, also sees improvements with SLI, but they are much smaller than the huge performance gains in the 3DMarks.
Doom 3, Half Life 2, and Far Cry all follow patterns that we have seen in their performance since SLI was first introduced.
We purposely included a few benchmarks that we knew were not supported by current nVidia drivers to show what can happen in these games. SLI results in these non-supported games range from no improvement at all with SLI to small performance losses in Quake 3. The point is that SLI is only worth it if the game you want to play is supported by nVidia drivers. This may get a little more complicated if nVidia turns on SLI by default when the driver sees an unknown, but for now, you need a supported game for SLI to make sense.
Yes, we fully expect the new, exciting, and best-selling games that are on their way to be supported by SLI.