ASRock Z490 Taichi Conclusion
The Z490 Taichi is the next interation in the Taichi series. It takes a premium position, currently just below the Z490 Aqua in which includes a large custom monoblock design for water-cooling. The ASRock Z490 Taichi therefore becomes a potential halo option for non-watercooled builts. The Taichi has a price tag of $370, which represents the mid to upper end of the Z490 chipset and includes some premium controllers with a unique Taichi inspired design.
Aimed at a mixed bag of users including gamers, content creators, and enthusiasts, the ASRock Z490 Taichi also includes future support for PCIe 4.0 and Intel's Rocket Lake processors through the top full-length PCIe x16 slot, and the top PCIe x4 M.2 slot. In total, the Z490 Taichi has three PCIe 3.0 x4 M.2 slots, with two that include support for SATA devices, as well as a total of eight SATA ports. Six of these are driven from the Z490 chipset with support for RAID 0, 1, 5, and 10 arrays, while the other two are present via an ASMedia ASM1061 SATA controller.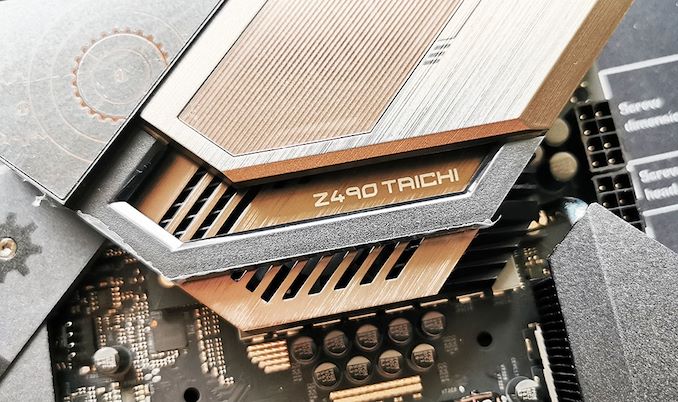 On the rear panel is a pretty stacked rear panel for a mid-range model with one USB 3.2 20 Gbps Type-C port which is one step down from Thunderbolt 3, while it also includes two USB 3.2 G2 Type-A, and five USB 3.2 G1 Type-A ports. BIOS Flashback is a handy feature to have, and ASRock includes boa DisplayPort 1.4 and HDMI video output pairing for users looking to use the integrated graphics on Intel's Comet Lake desktop processors. The Z490 chipset has also sparked an improvement in vendors networking capabilities, with the Z490 Taichi featuring a Realtek RTL8125BG 2.5 G and Intel I219-V Gigabit Ethernet controller pairing, as well as an Intel AX201 Wi-Fi 6 wireless interface which includes support for BT 5.1 devices.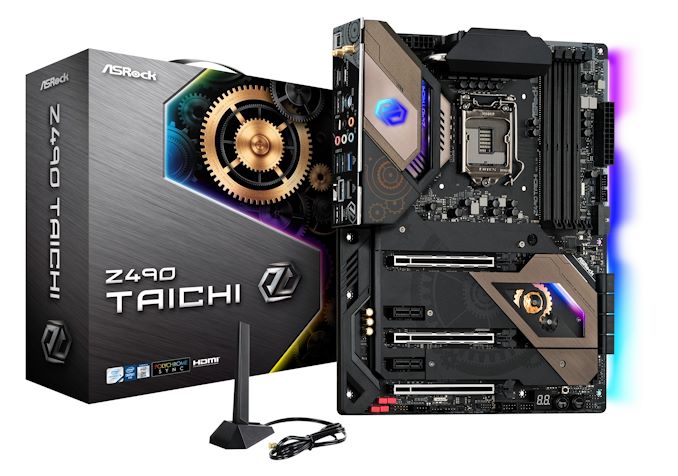 When it came to performance and compared to other Z490 models, the ASRock Z490 Taichi is one of the most power-efficient models tested so far. Having revamped our motherboard test suite for Z490 in terms of benchmarks, the Z490 Taichi performed well; trading blows with other models on test with ease. It delivers the best DPC latency score from all of the Z490 models tested so far but does lack a little in terms of system POST times. The onus on manufacturers is to optimize its firmware and utilize Intel's V/F curve for improved turbo times, but not sacrifice too much in regards to heat and power. Overclocking performance is competitive too, and with a 12+2 phase power delivery running in 6+1 mode with doublers, it's more than capable enough of pushing Comet Lake as far as the silicon will allow, with adequate cooling methods, of course.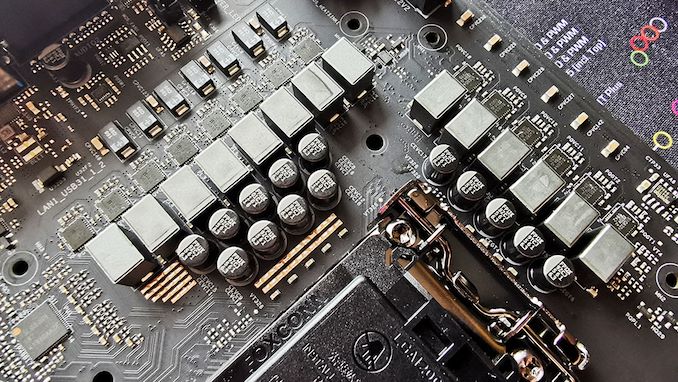 The ASRock Z490 Taichi has a lot of competition in the $350 to $400 price range, but it stands out as one of the unique Z490 models in terms of aesthetics. Rolling back the years a little, it is reminiscent of the ASUS Sabertooth series with its PCIe slot armor, and features as much plastic, which is a bit disappointing. The rear panel cover is plastic, and for $370, it wouldn't hurt ASRock to bolster the overall premium feel of the board with more metal, less plastic. Aside from this, it looks a solid and competitive Z490 option.