Performance Tests
DirectX 9 Gaming
To clarify graph data, all Reference values run with the nVidia 6800 Ultra are in Blue, and Light Blue used for Intel test results with the 6800 Ultra. Single/SLI results with the 6600GT are yellow/gold. Single/SLI results with the 6800GT are orange/red. The range of colors from yellow to red indicate increasing graphics power.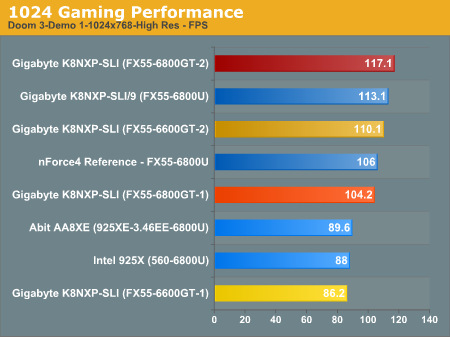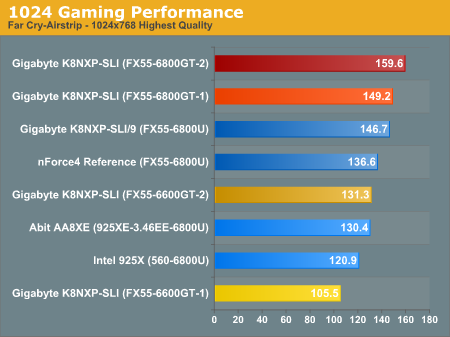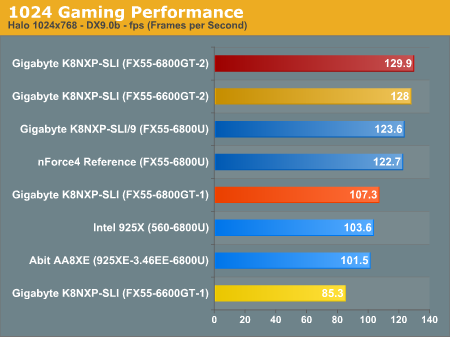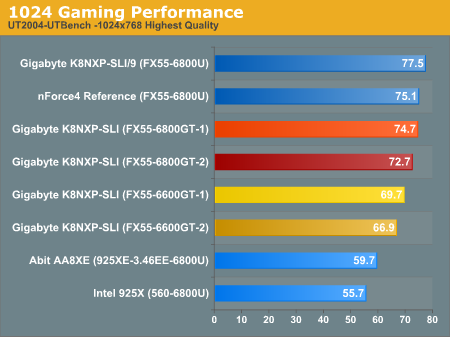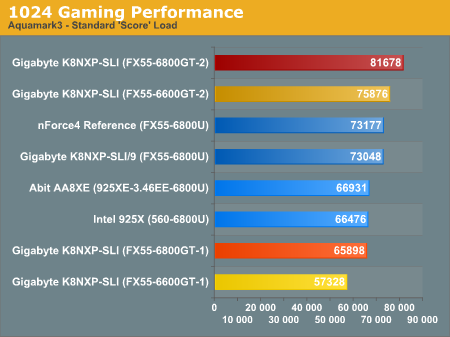 Even at 1024x768 without the eye candy, we see that SLI improves performance in the latest DirectX 9 games. The sole exception is UT2004, which uses DX9 for output and is not really a true DX9 game.

At 1024x768, the improvements with SLI are not as dramatic as we see with full AA and/or higher graphics resolutions, but they are still significant. In Doom 3, the 2nd 6800GT boosts performance only about 12%, but a second 6600GT kicks performance up to a much more significant 28%. In fact, a pair of $200 6600GT cards in SLI manage to outperform the $500 6800 Ultra in Doom 3.

Aquamark 3 is almost the perfect set of benchmarks to demonstrate the impact of SLI on performance. While the single 6600GT and 6800GT are at the bottom of the chart, 6600GT in SLI again tops the more expensive 6800 Ultra, and the pair of 6800GT cards are the top performer. The same is true of Halo, where the two SLI setups top the charts, even though a pair of 6600GTs is about $400 total.

Far Cry shows the more expected range of SLI performance, where a 6600GT SLI boosts performance 24% to near 6800 Ultra performance levels. The 6800GT shows a much smaller performance increase of 7% going to SLI,since it is a much more powerful card to start with than the 6600 GT and cost about double the 6600GT cost.

At 1024x768, SLI definitely improves performance in the newest and most demanding games, but the biggest SLI improvement is with two of the cheaper 6600GT cards, which see a significant performance boost to 6800 Ultra levels or above in many of our benchmarks.