Power Consumption
A new and much needed addition to our GPU review is tracking power consumption. Here, we're using a simple meter to track the power consumption at the power supply level, so what we're left with is total system power consumption. But with the rest of the components in the test system remaining the same and the only variable being the video card, we're able to get a reasonably accurate estimate of peak power usage here.
At idle, all of the graphics cards pretty much perform the same, with the integrated graphics solution eating up the least amount of power at 106W for the entire system: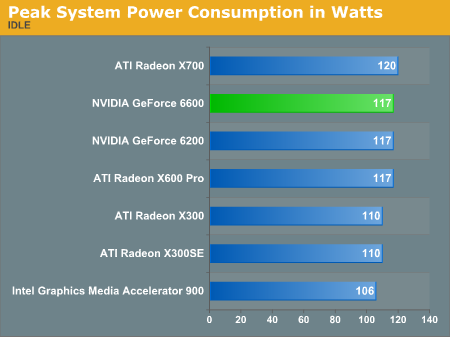 Then, we fired up Doom 3 and ran it at 800x600 (High Quality) in order to get a peak power reading for the system.
Interestingly enough, other than the integrated graphics solution, the 6200 is the lowest power card here - drawing even less power than the X300, but that is to be expected given that the X300 runs at a 25MHz higher clock speed.
It's also interesting to note that there's no difference in power consumption between the 128-bit and 64-bit X300 cards. The performance comparison is a completely different story, however.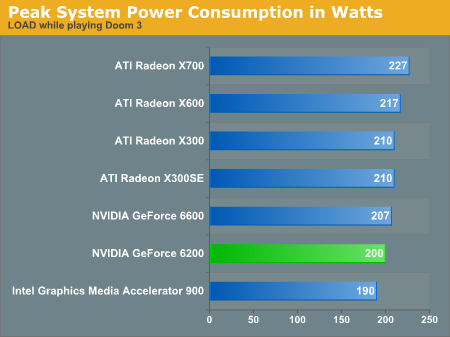 In the end, none of these cards eat up too much power, with the X700 clearly leading the pack at 10% greater system power consumption than the 6600. It will be interesting to find out if there's any correlation here between power consumption and performance.