G. Skill TCCD
This is our first complete review of memory modules from G. Skill. You can learn more about this Taiwanese memory maker at
www.gskill.com.tw
. G.Skill was established in 1989 by Enthusiasts and they specialize in the production of memory.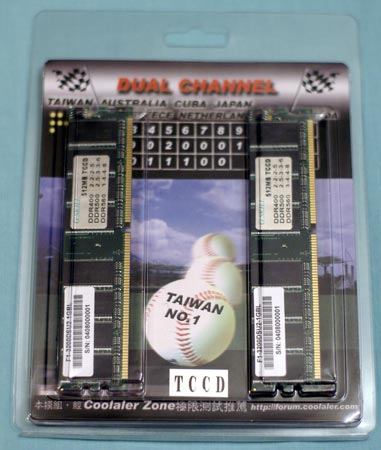 With a name of G. Skill TCCD, the memory chips should be obvious. This is a DDR sporting Samsung TCCD chips. Where G. Skill is a bit different is in rated speed of the memory. G. Skill actually quotes three different speed ratings - DDR400, DDR500, and DDR560. We have seen recent TCCD DIMMs reach DDR500 and beyond, but this is the first TCCD DIMM that actually specifies speed ratings to DDR560. The Samsung TCCD DIMMs are part of the G. Skill Extreme series and they carry a lifetime warranty.
You will also notice that there are no heat spreaders on the G. Skill DIMMs. Frankly, we have seen little, if any, cooling advantages with heatspreaders, so their absence will not be an issue to most. Heatspreaders are more often a cosmetic appearance item. They also appear useful when manufacturers want to make it a bit more difficult to determine the memory chips used on the DIMM.
Test DIMMs were a 1GB kit, a matched pair of 512MB double-sided DIMMs.
G. Skill TCCD Specifications
G. Skill TCCD Memory Specifications
Number of DIMMs & Banks
2 DS
DIMM Size
Total Memory
512 MB
Rated Timings
2-2-2-5 at DDR400
2.5-3-3-6 at DDR500
3-4-4-8 at DDR560
SPD (Auto) Timings
2.5-4-4-8
Rated Voltage
2.7V