MSI MEG X570 Ace
Our full review of the MSI MEG X570 Ace is currently live with many more X570 models set to be fully reviewed and analyzed over the next couple of months.
The MSI MEG X570 Ace motherboard represents its premium MEG range and as we've seen from its range on the Intel Z390 chipset, MSI has followed the same naming structure for users to easily identify which each range signifies. The X570 Ace benefits from an Intel Wi-Fi 6 wireless interface, a Realtek 2.5 G NIC, three PCIe 4.0 x4 M.2 slots, and a 12+2 power delivery. Like all of MSI's X570 product stack with four memory slots, there is support for up to 128 GB of RAM.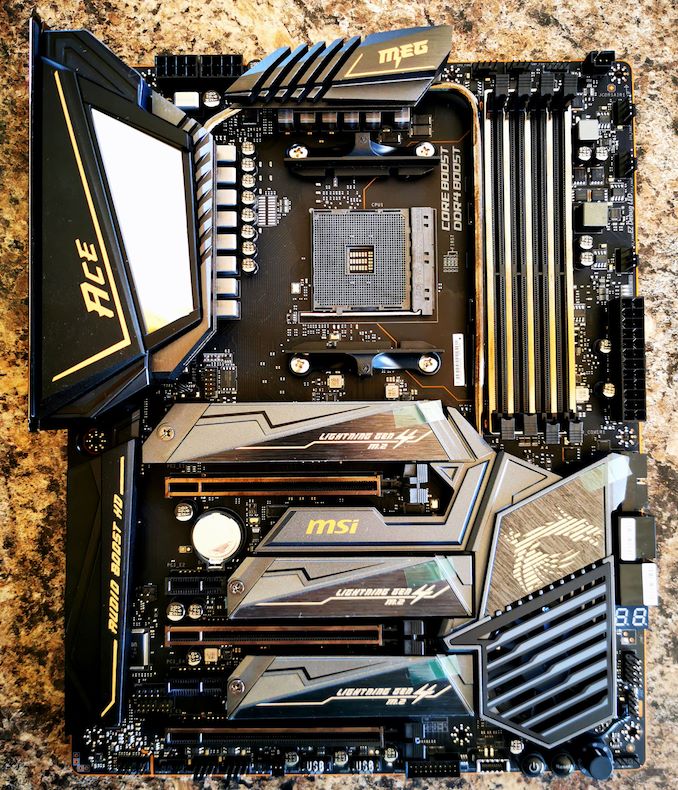 The board has four DDR4 memory slots with support for up to DDR4-4600, three full-length PCIe 4.0 slots which operate at x16, x8/x8, and x8/x8/x4, with an additional two PCIe 4.0 x1 slots. Built into the X570 chipset heatsink is a cooling fan which uses MSI's Zero Frozr design as the X570 chipset has a rated TDP of up to 15 W. Providing power to the CPU is two 8-pin 12 V ATX power inputs, while the power delivery is using an extended 8 to 6.5 mm heat pipe which extends from the power delivery directly down to the chipset. The MEG X570 Ace has three PCIe 4.0 x4 M.2 slots, each with its own individual Lightning Gen4 M.2 heatshield which amalgamates into the boards black and gold designed heatsinks. Like the MSI MEG X570 Godlike, MSI's RGB Infinity Mirror 2 is present on the rear panel cover to allow users to customize the look of the board.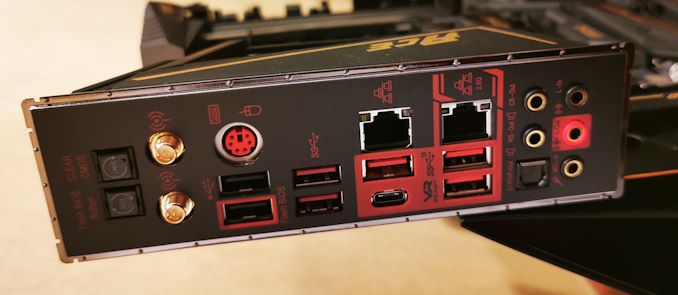 On the rear panel of the MSI MEG X570 Ace motherboard, there's a clear CMOS, and BIOS flashing button which has its own dedicated USB 3.1 G1 Type-A slot highlighted with a red outline. There are three USB 3.1 G2 Type-A ports, a single USB 3.1 G2 Type-C, two USB 3.1 G1 Type-A ports, and two USB 2.0 ports. Networking capability consists of a Realtek RTL8125AG 2.5 GbE NIC with the other Ethernet port being controlled by an Intel I211-AT Gigabit NIC. This model also includes integrated Wi-Fi with an Intel AX200 Wi-Fi 6 802.11ax wireless interface which also offers users with Bluetooth 5 connectivity. The five 3.5 mm audio jacks and S/PDIF optical output are driven by a Realtek ALC1220 HD audio codec.
The MSI MEG X570 Ace in terms of price and feature set is quite impressive and with an MSRP of $369 which makes it a highly competitive when compared with other models in its price range. The need for MSI to upgrade its networking capabilities on desktop motherboards is something they have started to implement, and the rear panel on the X570 Ace is also without video outputs so users looking to use Ryzen based APUs will need to look elsewhere.