MSI MEG X570 Godlike
Swinging around onto MSI's X570 product stack and we open up with its most premium and ultimately the flagship, the MSI MEG X570 Godlike. The MSI MEG X570 GODLIKE is its flagship X570 motherboard designed for both enthusiasts and gamers with a range of high-end controllers, accessories, and also features a 20-phase power delivery; 14-phase for the CPU VCore and 4-phase for the VGT/SoC.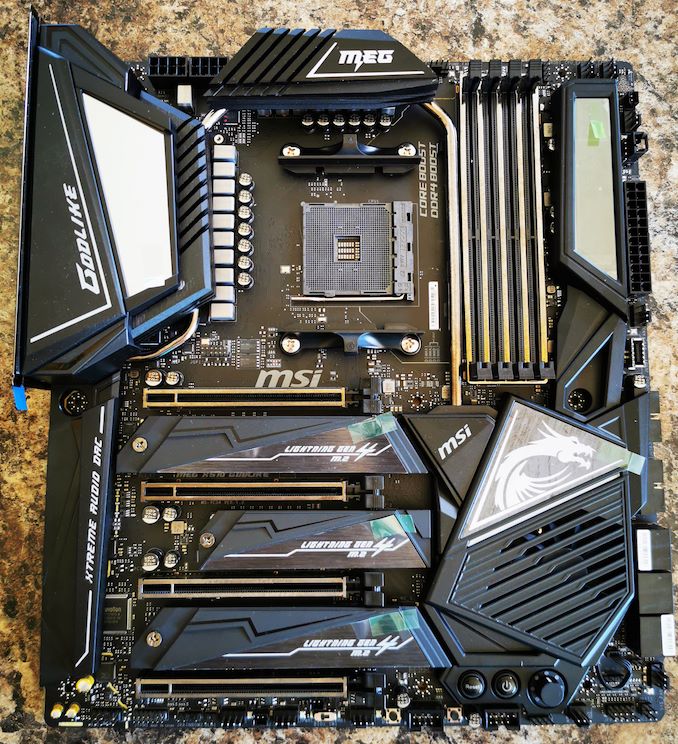 The X570 chipset on MSI motherboards including this model is actively cooled by a single fan featuring double ball bearing technology which MSI is calling Zero Frozr. Aesthetically the MEG X570 Godlike is impressive and even features an OLED screen which is implemented between the four DDR4 memory slots and the 24-pin ATX 12 V motherboard power input. The four memory slots have support for DDR4-4800 and up to 128 GB of total system memory. Touching on the accessories bundle included with the X570 Godlike is an Aquantia AQC107 10 GbE add-in card and M.2 Xpander-Z Gen4 M.2 PCIe add-on card which allows users to add an additional two PCIe 4.0 x4 M.2 drives on top of the three PCIe 4.0 x4 slots that are present on the board. Each onboard M.2 slot includes its own individual Lightning Gen4 M.2 heatsink.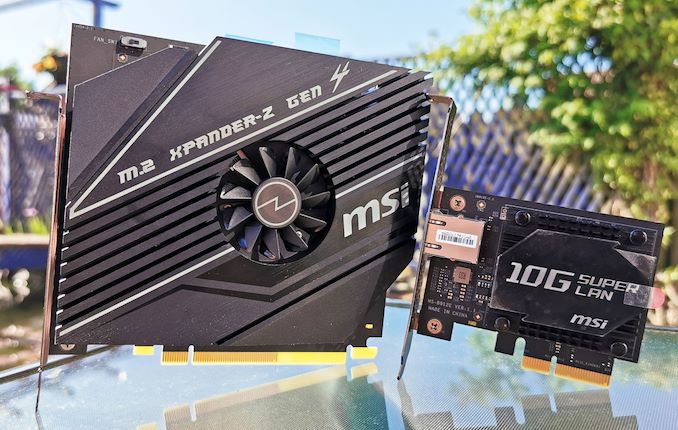 The MSI MEG X570 Godlike comes with an M.2 Xpander-Z Gen4 and Aquantia 10 G NIC add-on card
The MSI MEG X570 Godlike's PCB is four full-length PCIe 4.0 slots which operate at x16, x8/x0/x8, and x8/x4/x4, with the last full-length slot locked down to PCIe 4.0 x4. This means both two-way NVIDIA SLI and up to four-way AMD CrossFire multi-graphics card setups. A lot of focus has also been put enthusiasts with its 16-phase power delivery for the VCore; this power delivery uses Infineon TDA21472 MOSFETs with IR3599 doublers and runs from an IR35201 Digital PWM controller. Providing power to the CPU is two 8-pin 12 V ATX CPU power inputs setting the Godlike up as MSI's most enthusiast-level desktop board for any AMD platform in recent times.

Looking at the rear panel of the X570 Godlike, there are three USB 3.1 Gen2 Type-A, one USB 3.1 G2 Type-C, and two USB 3.1 G1 Type-A ports. Commonly featured on premium models, the MSI MEG X570 Godlike also has a pre-installed rear panel IO shield. Also present is a Flash BIOS button with a highlighted Type-A port dedicated to firmware flashing, as well as a Clear CMOS button, and a PS/2 combo port. The onboard audio is powered by two Realtek ALC1220 HD audio codecs with five 3.5 mm jacks and S/PDIF optical output, MSI has included an ESS E9018 DAC for good measure, which also adds a dedicated 6.3 mm jack for studio headphones which is included in the accessories bundle. The rear panel has two Ethernet ports with a Killer pairing consisting of an E3000 2.5 G, and E2600 Gigabit NIC.
The MSI MEG X570 Godlike E-ATX motherboard has an MSRP of $699 which for everything that is included is quite impressive. With an impressive accessories bundle which includes an Aquantia AQC107 10 G NIC add-on card, an Xpander-Z Gen4 M.2 card which adds a scope for an additional two PCIe 4.0 x4 M.2 drives to be installed bringing to total to five is also a nice touch. It's not a cheap investment, but it's an impressive option for gamers, enthusiasts, and hardware aficionados looking to create a high-end system using Ryzen 3000.