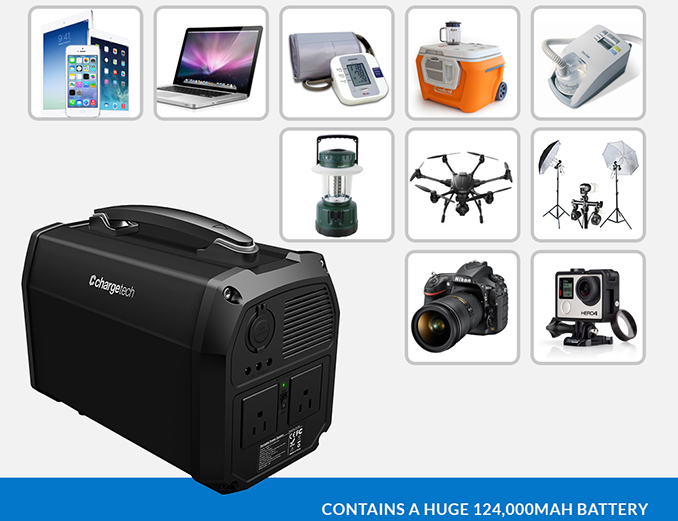 One of the fundamental elements of a backpack when going on a journey is to take a battery pack in case your smartphone doesn't make it through the day. These devices typically hold from 5000 to 20000 mAh and can charge a device a few times. For example, my 11300 mAh battery is rated at 42.7 Watt hours, and often the legal limit on aircraft is 100 Watt hours. Now imagine we scale that into something the size of a portable amplifier, that can charge laptops as well. These bigger battery devices has been around a while, varying in size and shape, but ChargeTech believes it has a nice sweet spot.
Its new 'portable power station' features a 124,800 mAh capacity battery, which comes in at 462 Wh. This large battery pack, which won't make it past the TSA, is designed for charging devices where there is no extra power, or for long journeys in the wilderness where power is a must. If a user needs to power many devices when away from a power grid, it features AC outlets, DC power connectors, USB Type-A, and USB Type-C ports. Furthermore, it can playback music, and has an LED light to illuminate surroundings as well.
The ChargeTech PS120K packs multiple batteries for a total capacity of 124,800 mAh (462 Wh), which is enough to charge a typical 13.3-inch laptop for 10 times, or Apple's iPhone XR 47 times. Obviously, the product can do much more than that. It has two 110-120 Volt AC power outlets that can deliver up to 300 W each, three DC 9-12V/5A power outlets, a cigarette lighter port, three USB Type-A ports, and a USB Type-C port supporting 60 W power delivery (see exact specs in the table below). It requires its own special power supply to charge it, which is not built in to the device.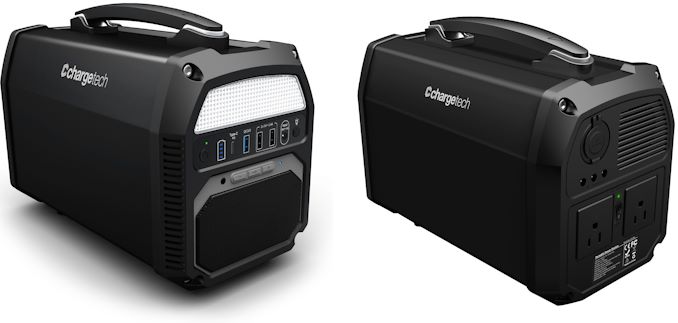 As two added bonuses, the unit features a 10 W Bluetooth speaker as well as a massive LED array that can light up surroundings or even display SOS signs.
The ChargeTech PS120K
110V only
Port
Output
Input
DC Input
-
19V/4.5A = 85.5 W
via power pack
AC Power Outputs
2 × 300 W
-
DC Power Outputs
1 × 9-12V/5A = 60 W
-
USB Type-A with QC 3.0
1 × 18 W
-
USB Type-A
2 × 2.4A/5V = 24 W
-
USB Type-C
60 W PD
-
Cigarette Lighter Port
1 × 9-12V/5A = 60 W
-
General Features
Total Capacity
462 Wh
3.7V
124,800 mAh
Bluetooth Speaker
10 W
LED Light
5 W
Weight
12 lbs / 5.4 kg
Price
$699
ChargeTech recommends the PS120K to those going to road trips to rural areas and who might need to charge smartphones, laptops, cameras, drones, and other gear. Naturally, the device can be used by various professionals to charge equipment they take on set. One thing to keep in mind that the product cannot be taken onboard of commercial airlines. In the meantime, the manufacturer does not position its portable power station for first responders and other people working in extreme conditions all the time (this does not mean that it cannot be used by them at all, but it just does not have certifications for extreme conditions).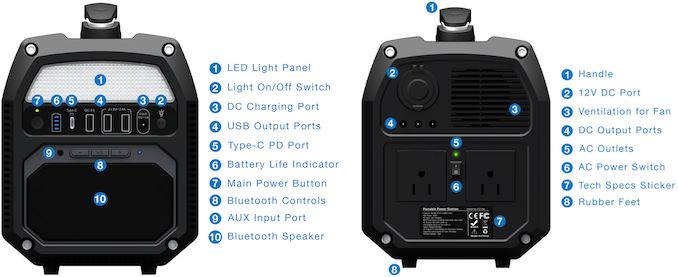 ChargeTech will start sales of its PS120K portable power station in March 2019 at a price of $699.
Related Reading
Source: ChargeTech