Construction
Dell's 1
st
and 2
nd
generation monitors can only be described as "clunky." The 2000FP and 1702FP are notable monitors of good performance, but less than desirable style. It is obvious that Dell took a page from Samsung's 191T (or Dell 1901FP), when designing the 2001FP LCD. The bezel on the 2001FP is literally 1/3 that of the 2000FP. Also gone is the one piece design, in favor of a VESA compatible stand and screen.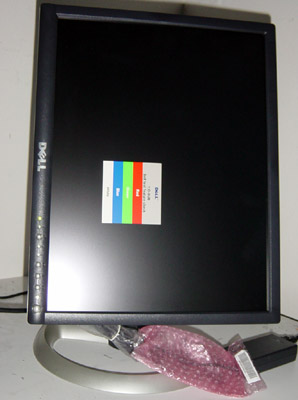 Click to enlarge.
We will touch more on the stand and base later, but it is fairly interesting how heavy the stand actually is. Since this monitor will tilt and swivel, the counterweights in the base effectively double the weight of the assembled unit.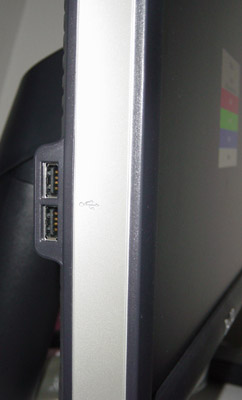 Oddly enough, it looks like USB hubs on the monitor are back in vogue again, and you can see from a shot of the monitor inputs that the LCD accepts 2 USB outputs in the rear, and an additional two USB receptors on the left side of the monitor. This looks like a bit of an afterthought, but if you are used to having the USB ports on your monitor, it is a welcomed addition.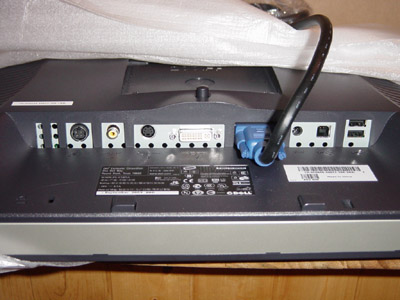 Click to enlarge.
From the picture above, you can see the 2001FP is not shy on inputs. From left to right, you can see inputs for power, composite video, S-Video, DVI, D-sub 15, Audio (for the AS500 sound bar, which was not included), USB 2.0 input, and 2 more USB outputs. The Genesis gm1601 chipset on the monitor is more than capable for these signals.
The screen itself is a very nice LG.Philips LCD LM201U04. This is perhaps the first true 16ms 24-bit LCD panel commercially produced and doesn't rely on over-inflated contrast ratio and brightness numbers to draw attention to itself. We will go into more detail about the panel later on.