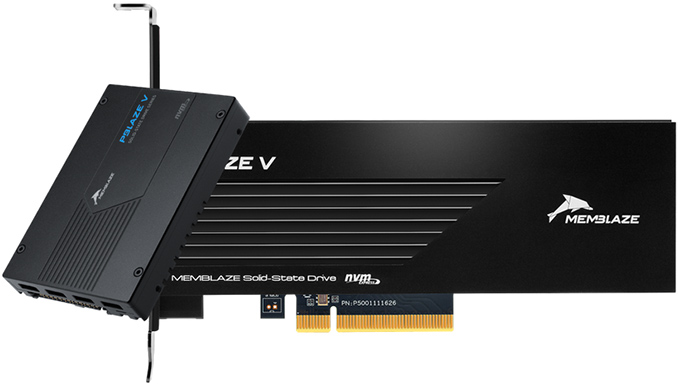 Memblaze has introduced its new generation of server-class NVMe SSDs for mixed and mission critical workloads. The PBlaze5 SSDs are based around Micron's 3D eTLC memory and paired with a Microsemi Flashtec controller. The SSDs come in PCIe 3.0 x8 AIC or 2.5" U.2 form-factors, carry up to 11 TB of 3D TLC NAND, and feature sequential read performance of up to 6 GB/s as well as random read performance of up to 1M IOPS.
The Memblaze PBlaze5 700 and 900-series SSDs are based on Microsemi's Flashtec PM8607 NVMe2016 controller that features 16 compute cores, 32 NAND flash channels, and supports everything one might expect from a contemporary SoC for server SSDs (LDPC 550 bit/4KB ECC with a <1 bit per 1017 bit error rate, NVMe 1.2a, AES-256 PCIe 3.0 x8/PCIe 3.0 x4 dual-port, etc.) along with a host of enterprise-grade features. Memblaze further outfits the card with their own MemSpeed 3.0 as well as MemSolid 3.0 firmware-based technologies. The MemSpeed 3.0 feature better ensures consistent performance and QoS, and comes with further priority que management optimizations over the previous version. As for the MemSolid 3.0, it is a stack of reliability and security features of the PBlaze5 900-series drives, which we are going to touch upon later.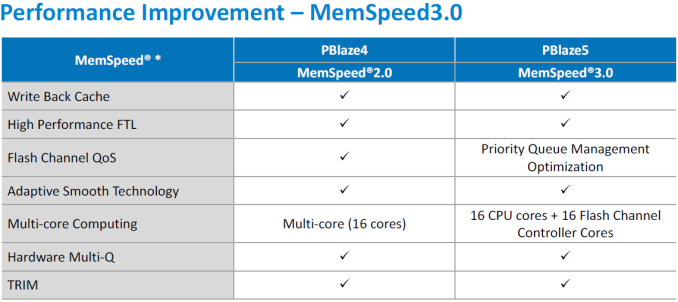 Both the 700 and 900 series drives use the same kind of memory — Micron's 32-layer 3D eTLC NAND flash (384 Gb). Memblaze tells us that the 3D eTLC memory offers higher endurance and reliability, but it does not go beyond that.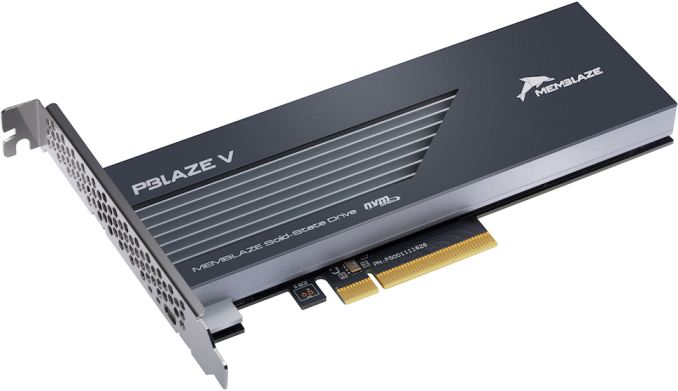 Given the same controller and the same kind of memory, performance and power consumption numbers for the PBlaze5 700 and 900-series SSDs are close (the 900-series offers 50% higher random write performance). The 2.5" drive form-factor PBlaze5 D700/D900 feature sequential read speeds of up to 3.2 GB/s, sequential write speeds of up to 2.4 GB/s, as well as up to 760K random read IOPS. The PCIe card-based PBlaze5 C700/C900 offer considerably higher performance numbers due to two times wider interface (PCIe 3.0 x8): sequential reads up to 6 GB/s, sequential writes up to 2.4 GB/s, and 1.042M read IOPS, respectively. As for power consumption, all the drives use from 7 to 25 W of power, depending on the configuration, workload and settings. However, the similarities between the PBlaze5 700 and 900-series SSDs end here.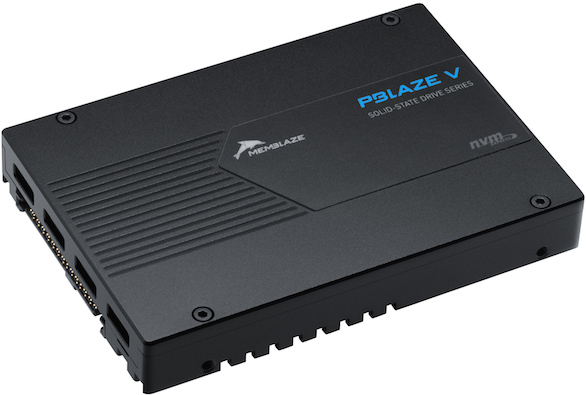 The PBlaze5 700 drives are designed for datacenters that require maximum performance, high density and capacity at low power and moderate costs. That said, the PBlaze 700-series are rated for 1 DPWD for five years and come with reliability features that are consistent with other SSDs for hyperscale datacenters.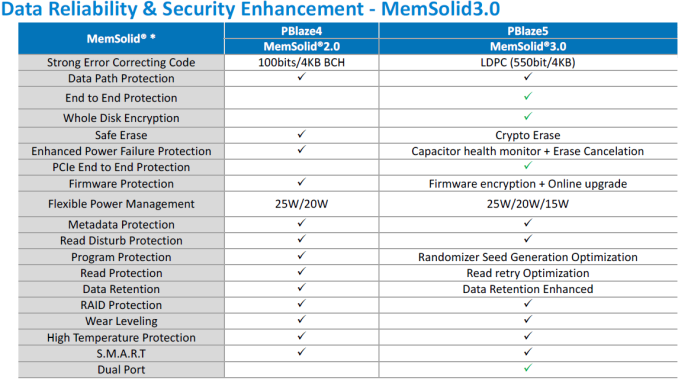 By contrast, the PBlaze5 900-series drives are aimed at mission critical environments (databases, financial transactions, analytics, etc.) that need enhanced reliability. In addition to extended error correction code (with a 1x10-17 bit error rate), the PBlaze 900-series also supports end-to-end data path protection compatible with T10 Data Integrity Field (DIF)/SNIX DIX, which results in a Silent Bit Error Rate (SBER) lower than 1 bit per 1023 bits read. In addition, the 900-series takes full advantage of all MemSolid 3.0 enhancements offering features like crypto erase, background scan protection, firmware encryption (one of the first SSDs to support this feature), whole disk encryption, metadata protection, read disturb protection, dual-port capability (U.2 drives only), and so on. For those who need to flexibly manage the power consumption of their SSDs, the MemSolid 3.0-based drives offer distinct 15, 20 and 25 W modes. As for endurance, Memblaze guarantees 3 DPWD over five years for its PBlaze5 900-series SSDs.
Memblaze PBlaze5 Series Specifications
PBlaze5 D700
PBlaze5 C700
PBlaze5 D900
PBlaze5 C900
Form Factors
2.5" U.2 Drive
HHHL AIC
2.5" U.2 Drive
HHHL AIC
Interface
PCIe 3.0 x4
PCIe 3.0 x8
PCIe 3.0 x4
PCIe 3.0 x8
Capacities
2 TB
3.6 TB
4 TB
8 TB
11 TB
2 TB
3.2 TB
4 TB
8 TB
Controller
Microsemi Flashtec PM8607 NVMe2016
Protocol
NVMe 1.2a
NAND
3D Enterprise TLC NAND memory
Sequential Read
3.2 GB/s
6 GB/s
3.2 GB/s
6 GB/s
Sequential Write
2.4 GB/s
2.4 GB/s
2.4 GB/s
2.4 GB/s
Random Read (4 KB) IOPS
760,000
1,042,000
760,000
1,042,000
Random Write (4 KB) IOPS
210,000
304,000
Latency Read
90 µs
Latency Write
15 µs
Power
Idle
7 W
Operating
25 W
ECC
LDPC 550 bit/4 KB
Endurance
1 DWPD
3 DWPD
Dual-Port Support
-
+
-
Uncorrectable Bit Error Rate
<1 bit per 1017 bits read
Silent Bit Error
-
<1 bit per 1023 bits read
End-to-End Data Protection
-
T10 DIF/DIX
Crypto Erase
-
+
Firmware Signature
-
+
PCIe ECRC
-
+
Encryption
AES-256
Power Loss Protection
Yes
Proprietary Technologies
MemSpeed 3.0
MemSolid 3.0
MemSpeed 3.0
MemSolid 3.0
MTBF
2.1 million hours
Warranty
Five years
Additional Information
Link
Link
Traditionally, Memblaze does not publicly list the pricing of their enterprise SSDs, as pricing is dependent in part on the number ordered and just how the customer wants the drives configured. The company is currently working with its partners on deploying the PBlaze5 drives, and actual volume shipments will begin after their clients validate the SSDs with their respective applications.
Related Reading:
Source: Memblaze