With the annual Computex Taipei trade show quickly approaching, AMD sends word that they will be hosting a live webcast for their annual press conference at the show. The press conference itself is scheduled for 10am local time (02:00 UTC) on June 1st, which for North America translates to 10pm Eastern/7pm Pacific on May 31st.
According to AMD's announcement, their press conference will have both major CPU and GPU news. On the CPU front, AMD's 7th generation "Bristol Ridge" APU is scheduled to be shown off. AMD pre-announced Bristol Ridge back in April, and as AMD has made it a habit in recent years to do major APU disclosures around Computex, I'd expect that we'll get the full architectural and SKU details on Bristol Ridge at the show.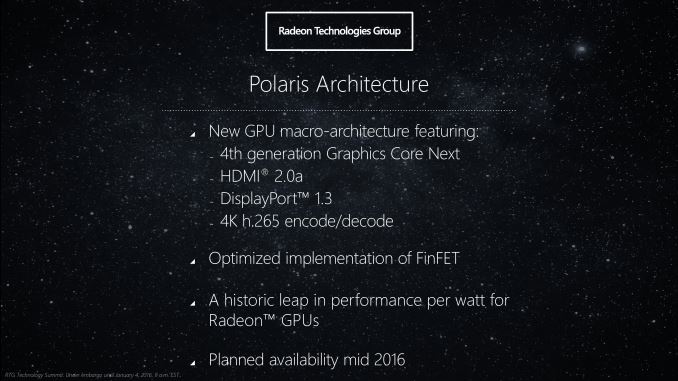 Meanwhile on the GPU front, AMD will be speaking more about their forthcoming Polaris architecture GPUs. When AMD first unveiled Polaris at the start of this year, they announced that the first Polaris GPUs will be available in the middle of this year. With Raja Koduri set to present, it's very likely that this will be the formal Polaris launch event. In previous generations AMD has held launch events for their desktop products a couple of weeks ahead of retail availability, so it's likely to be the case here as well.
Given the timing, we should also get an update on AMD's mobile GPU plans. The company has already announced the rebadged members of the new Radeon M400 series, so this would give AMD a chance in flesh out the lineup with Polaris-based parts.
Remote viewers can catch the webcast at AMD's Computex website. We'll be in attendance as well, live blogging the press conference with our own take on AMD's latest announcements.
Source: AMD Investor Relations