At the top of the review, I stated that reviewing a server or workstation motherboard is different to a consumer motherboard review. The focus is often very different, meaning that stability and function take precedence over style and user experience. In most cases it has to work without failing and be quick to repair when things go wrong. With all that being said, the MW31-SP0 is a very odd motherboard indeed.
Recap on C232 and C236
However, a brief recap of how the new Skylake Xeon platform will work. From Skylake onwards, Xeon E3-1200 v5 series processors will only work on motherboards equipped with a server chipset, either a C232 or C236. Previously E3-1200 series processors could be paired with a consumer chipset, but not anymore. The two server chipsets will also support consumer processors as well as Xeons, opening that option, but users who typically pair an E3-1230 type processor with a Z- or H- series motherboard can no longer do so. As a result, as well as the normal server motherboard manufacturers, several of the standard consumer motherboard manufacturers have built C232 and C236 motherboards as well. The C232 chipset is akin to the B150, while the C236 is more like the Q170.
Skylake Chipsets
C236
C232
Q170
B150
Supports Intel Core CPUs
Yes
Yes
Yes
Yes
Supports Intel Xeon E5-1200 v5 CPUs
Yes
Yes
No
No
SLI Possible
Yes
No
Yes
No
Chipset PCIe 3.0 Lanes for HSIO
20
8
20
8
USB 3.0 Ports
10
6
10
6
USB 2.0 Ports
4
6
14
12
SATA 6 Gbps Ports
8
6
6
6
M.2 PCIe Support in RST
Yes
No
3
No
vPro Support
Yes
No
Yes
No
Intel SIPP
Yes
?
Yes
No
Intel Small Business Advantage
Yes
?
Yes
Yes
TDP
6 W
6 W
6 W
6 W
Recommended Price
$49
$34
$47
$28

GIGABYTE Server MW31-SP0 Conclusion
There are a few main 'draw' features to this motherboard. It uses a PLX8747 switch to enable two PCIe 3.0 x16 lanes at full bandwidth to each other, rather than an x8/x8 arrangement which we see on other dual-GPU Skylake based motherboards. These slots are also SLI certified, which is only present on a two or three Skylake Xeon motherboards total at this point. We've heard from some manufacturers that SLI on E3-1200 v5 is not a highly requested feature.
Another draw is the mezzanine card slot supported with PCIe 3.0 x4 of bandwidth. This is essentially a PCIe slot using a connector, but allows the motherboard to be bundled with a pair of additional copper or fiber network ports that are on the rear panel rather than through a PCIe card. For 1U systems that will use PCIe ribbons for the PCIe accelerators, this enables faster networking in smaller form factors.
The other element is the legacy connections. The MW31-SP0 motherboard supports two serial ports and two PCI ports for compatibility with older hardware. This all comes down to old machinery that communicates through PCI cards – it's cheaper to buy a new PC than to replace a seven-figure machine. One example I like to give on this is a custom modding/tuning vehicle workshop I visited several years ago, carving massive aluminum blocks for new parts. They all ran on Firewire, of all things, but the machinery was still perfect for the job. The other element is back in academia, where custom PCI cards for specialist hardware can still be a thing. I had to upgrade those machines once in my old research group. All good fun…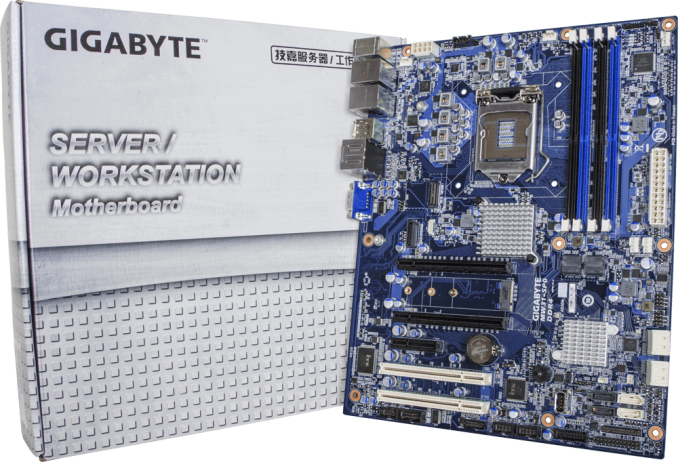 Despite the draws, there are numerous flaws. On the hardware side, there's no control chip for easily accessing the system from an external device to debug issues, but also no two-digit debug or power/reset buttons to make things easy. Performance for a Skylake system is also bargain basement, with medium-to-high power consumption, long POST times, mediocre audio through the ALC887 codec and high DPC Latency. The system doesn't care much for user experience, relying on the old hand of an experienced user: there's no option to control fan speeds for example, and the BIOS is limited.
Everything else to mention about this motherboard is price related. The asking price for a single unit through Newegg is high: $370. About $100 of that will come from the PLX chip used, but even at $270 it's still a lot to ask. There's no USB 3.1, no Thunderbolt, no software, no easy debugging, no easy BIOS updating, and even at that price there's no mezzanine card by default. Without knowing there was a PLX chip, I was thinking this was a $130-$150 motherboard at most, or something cheaper than the MSI Z170A SLI PLUS which is sort of similarly equipped in hardware but better presented and comes with more extras. That being said, corporate clients buying in bulk won't be paying the single board price, but I don't have access to package deal pricing.
To top it all off, GIGABYTE's Server division has one central problem with this motherboard, and it comes from a few floors above the server team back at GIGABYTE HQ: the main motherboard division now sells the SLI-capable GIGABYTE X170-Extreme ECC. This motherboard retails at $310, which is $60 cheaper. While it doesn't have a PLX8747 chip, a custom mezzanine port or PCI slots, it is better equipped for almost everything with Thunderbolt 3, USB 3.1, a full software package and a BIOS that actually allows for fan control. For what it's worth, we recently got the X170-Extreme ECC in for review.
Other 100-Series and C232/C236 Motherboard Reviews:
Prices Correct at time of each review
($500) The GIGABYTE Z170X-Gaming G1 Review
($500) The ASUS Maximus VIII Extreme Review
($370) The GIGABYTE MW31-SP0 Review (this review)
($250) The ASUS Maximus VIII Impact Review
($240) The ASRock Z170 Extreme7+ Review
($230) The MSI Z170 Gaming M7 Review
($208) The GIGABYTE Z170-UD5 TH Review
($165) The ASUS Z170-A Review
($130) The MSI Z170A SLI PLUS Review
($125) The Supermicro C7H170-M Review